Update The central business district of Australia's largest city, Sydney, is today in lockdown after a man shut himself and around 40 people in a cafe. The man reportedly has a gun and has insisted his captives display a flag bearing Arabic script in the cafe's window.
Authorities have asked locals not to visit the city. Several city blocks have been cleared.
Public transport has been re-routed and outbound trains are reportedly packed.
And Uber's surge pricing has kicked in: at the time of writing a fare from Vulture South is 2.6x its usual price.
Social media is, as you'd expect, going nuts. Given Uber's many recent transgressions it's not hard to see why. Accusations are flying that Uber is profiteering.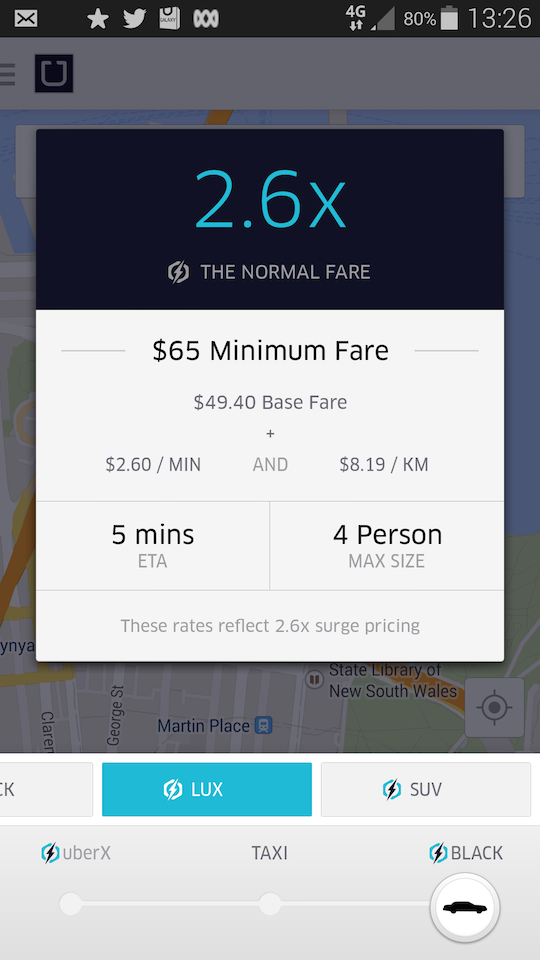 Whether anger is justified is another matter, not least because there are still innocent people in that cafe. During the writing of this story, it has emerged that police are yet to speak to the hostage-taker.
But traveling to central Sydney is demonstrably risky right now. If Uber drivers are willing to go there, who are we to stop them? And at a time of scarcity, won't prices rise? Or should Uber be classier than this and keep prices at normal levels.
We've set up the poll below so you can vent, and if a single click isn't enough for you there's also this special forum to discuss the topic here.
®
Update Uber's obviously watching social media, because it has just posted this tweet.
Uber Sydney trips from CBD will be free for riders. Higher rates are still in place to encourage drivers to get into the CBD.

— Uber Sydney (@Uber_Sydney) December 15, 2014
We've amended our poll options accordingly.
Bootnote: While Vulture South's office is several blocks from the scene of the siege, your correspondent chose a very good day on which to work from home.
Similar topics