This article is more than 1 year old
Pitch Black: New BlackBerry Classic is aimed at the old-school
This mobe is all tool belt and braces
Hands on How can a phone maker sell out of its new smartmobe in advance when no one even knew what was inside? BlackBerry has somehow managed that feat.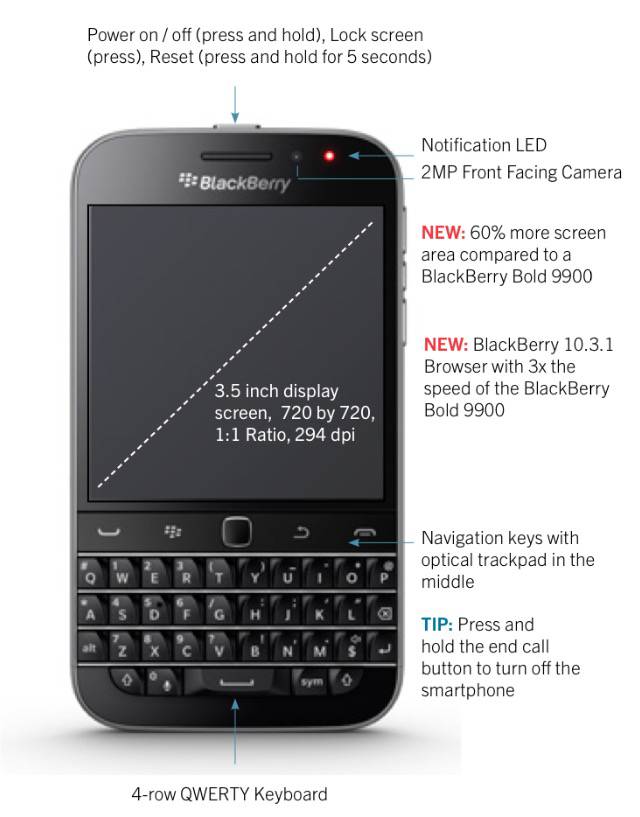 Click to enlarge pics
Back in February it announced the Classic, which be could be ordered online last month, and until today nobody knew the specifications.
"Too many things changed at the same time," a BlackBerry exec admitted to this Reg hack at the launch event today in Frankfurt, Germany – one of three places where the modernized Bold was also officially revealed.
The Classic restores the BlackBerry "tool belt" trackpad, and dedicated answer call, end call, menu and back keys. It also has a much more fluid user interface that went missing when BlackBerry first introduced phones powered by BlackBerry OS 10.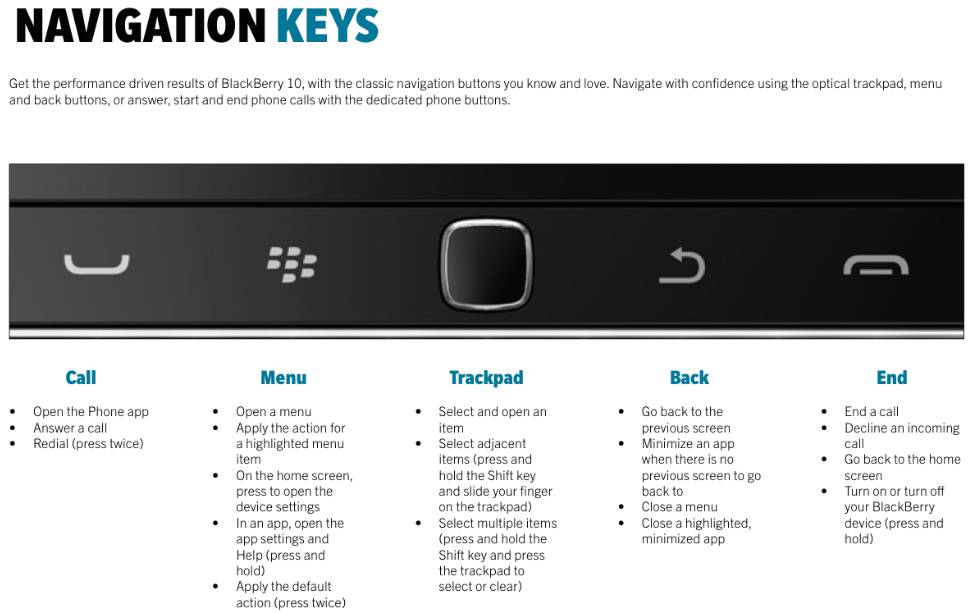 Working your way around the Classic
With the tool belt missing, the QWERTY Q10 wasn't a smooth ride – and if you were familiar with older BlackBerry handsets, you really felt the bumps in the road. Then BlackBerry crashed, and for a while it looked as if we'd seen the last BlackBerry of any kind.
Surely this new handset confirms that when it comes to phones, the classic BlackBerry design has really been a device category all of its own. It was a Thing. People still like that Thing – they hanker after that familiarity and dependability and nerdish functionality. Tinker with it at your peril.
So what's the Classic like?
It's big, classy and heavy – but not uncomfortably so: it weighs in at 177g (6.24oz) and is sized 131 x 72.4 x 10.2mm (5.16 x 2.85 x 0.40in).
It uses the dual-core 1.5GHz Qualcomm Snapdragon processor found in the Q10, and has the same screen resolution. But you don't feel as if you're peering through a keyhole, as you did with the Q10.
The Classic also has 2GB of RAM and 16GB of storage, expandable by a microSD card up to 128GB in size. It can do 4G/LTE, Wi-Fi 802.11 a/b/g/n, Bluetooth 4 LE, and has a non-removable 2,515mAh battery.
The Classic's 3.5in 720 x 720-pixel display is a lot more comfortable than the 3.1in Q10, and far bigger than the now seemingly-absurdly-small 2.7in Bold. At 294ppi it's way below the 453ppi of the wacky widescreen Passport – but plenty good enough.
The keyboard has the same key layout as the classic vintage BlackBerry Bold 9900 – but in a straight horizontal arrangement rather than in a sorta smile. It feels terrific. You should be able to type blindfolded, or drunk, or perhaps even both – just as you could with a normal BlackBerry.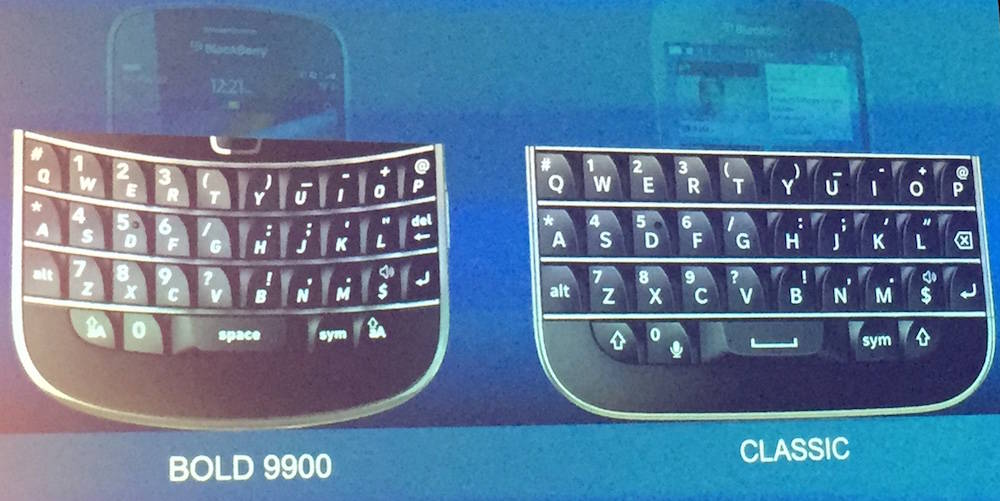 Smile for the camera ... the Classic and Bold keyboards compared
The point of the archaic keys and trackpad is that your hands should never leave the keyboard, and you should never need to juggle the phone in your hand to reach something on screen.
So long as you stick to BlackBerry's own apps, that promise should hold up well. BlackBerry has put a lot of work in making the system trackpad and tool belt user-friendly.
I didn't have time to install third-party apps or Android software, but it's unlikely these will support the trackpad at all, and you'll need to use the touchscreen. That said, navigating the system is fast and fluid, everything including the pulldown shortcuts is accessible without touching the screen.
The Classic not only restores the tool belt: many of the niceties BlackBerry users took for granted, but were missing in BlackBerry OS 10, have been restored. So the keyboard now launches apps or shortcuts; the "bedside mode" can put the device into lower power. Profiles and personal notifications have returned. BlackBerry has put a lot of work in over the past two years.
The Canadian biz is aiming this squarely at businesses, with distribution to enterprises via its direct sales forces, disties like Ingram Micro, or through operators business accounts (EE and O2 in the UK). Consumers will need to go through Carphone Warehouse or buy direct from Amazon or BlackBerry itself.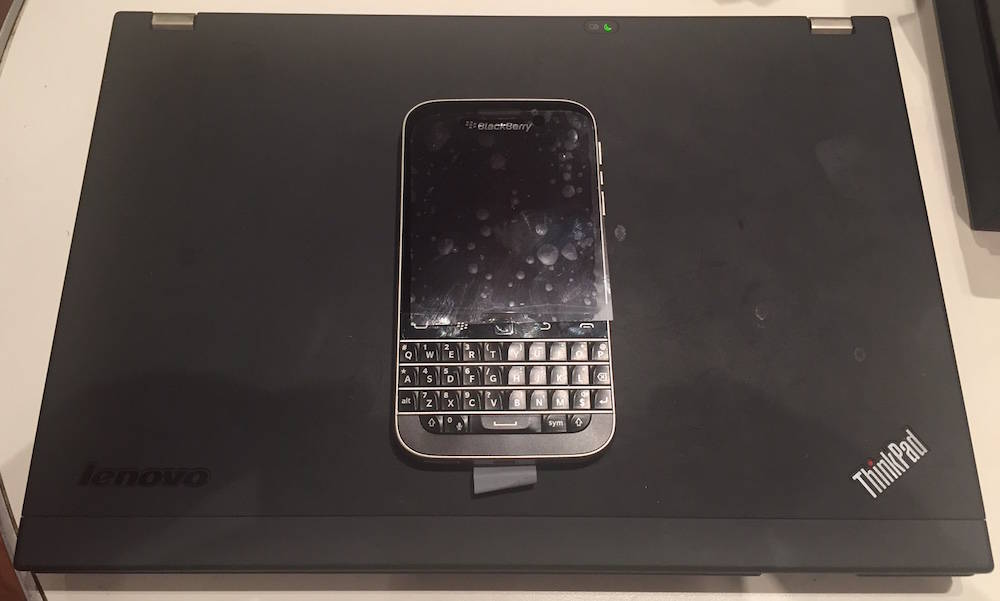 ThinkPad for scale ... the Classic with someone's smudges all over it
So, cue a thousand "Black to the Future" headlines, and doubtless some mockery. But I think it's actually quite brave of BlackBerry to admit the last QWERTYs were less than perfect, and to bring back features from its past.
Stay tuned for a longer review. Any questions? Pop them in the comments below. ®