So how compact is this Compact?
Well, a 4.6 inch diagonal display was on the heavy end of mid-sized two years ago, but the Z3 Compact feels tiny compared to today's flagship rivals: HTC One M8 (5" display/160g) Samsung Galaxy S5 (5.1"/145g); Moto X 2014 (5.54"/144g); LG G3 (5.5"/149g).
Now that Apple has broken its hitherto unbreakable thumbspan vow, the Sony's smaller than the new iPhone 6 (4.7"/129g) and super-sized iPhone 6 Plus (5.5"/172g).

Passes the 9mm test measuring up at 127 x 65 x 8.6mm
I was particularly impressed with the industrial design, which is as attractive and coherent as I've seen on an Android phone. The sides have a curved, jelly-like translucent quality, although the material is hard plastic.
The glass back didn't perform the creeping trick it for me that it did for Alun Taylor (who reviewed the full sized Z3). Like Alun, though, I'd recommend a case for the Z3 Compact particularly as the lens protrudes slightly from the back, making it more prone to scratches.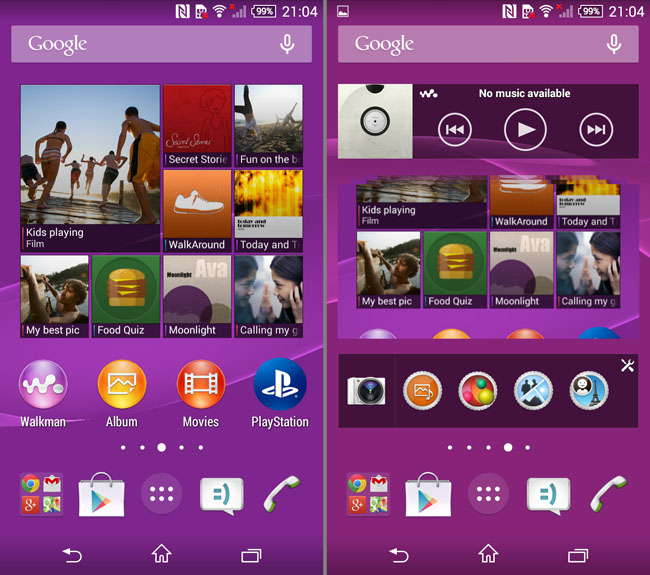 Homescreens
The software is the same bundle as the larger Z3 flagship. It's strong on media playback – either on the device itself or another screen – and a month ago it gained PS4 Remote Play and media playing.
However there's far too much thoughtless duplication. Sony continues to maintain a Sony app store (Sony Select) alongside the Google Play store, and Sony highlights its own games, media apps, and personalisation. So does the "Xperia Lounge" app and the "What's New". Four shops is a bit a much.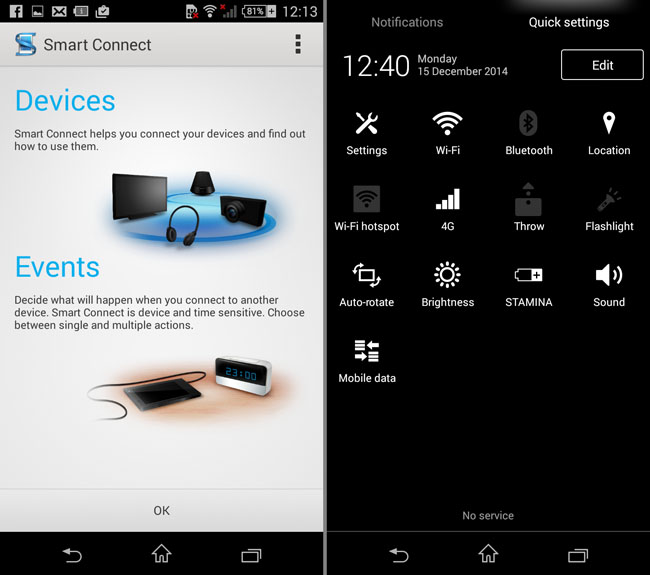 Smart Connect and Quick Settings
Still, there are some welcome features here. Smart Connect is the old LiveWare app - giving you the ability to manage your connections to other devices such as docks and wearables, for example, or launch apps, or change settings at specified times.
I also found that the Walkman music player and sync software did a much better job of transferring music over from a local PC for offline playback. For those of us who don't trust our music to the cloud, and simply want old fashioned sync, the effort is appreciated.
Sponsored: Webcast: Ransomware has gone nuclear