Sony looks at unpopular Google Glass, shouts 'ME TOO!'
Electronics giant wants to clip a computer to your specs
Sony has unveiled a headset display that snaps on to a pair of glasses a la Google Glass.
The entertainment giant said its Single-Lens Display Module projects images and information into the wearer's vision on one side of the specs.
The hardware will sport a 640 x 400-pixel color display with a 10,000:1 contrast ratio, and will be powered by an ARM Cortex-A7 processor core and a 400mAh battery. It will pair with other mobile devices, including cameras and handset, via Bluetooth. It also does Wi-Fi and has an electronic compass, accelerometer and touch sensor – all inside a 40g widget.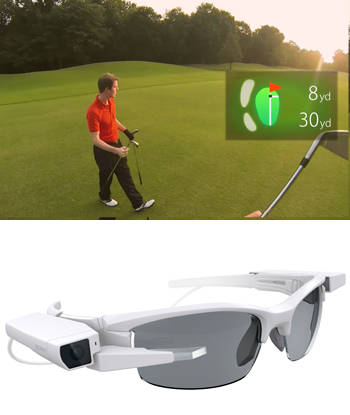 Looks rather familiar
The Sony gizmo looks like Google's less-than-popular, expensive Glass headwear. Unveiled to much fanfare, camera-equipped Glass has since fallen flat. Some early adopters earned a reputation for rude and invasive behavior, prompting popularization of the term "Glasshole" to describe wearers.
More recently, app developers are moving away from building software for the Glass heardware.
Unlike Google Glass, which required users to purchase the full headset, the Sony unit clips on to a user's own sunglasses, sport goggles or fashion glasses (the company did not say whether the display will work with prescription lenses at this point.)
Sony also seems to be saying its gizmo isn't for everyday use, like shopping or riding the bus to work – perhaps because wearing the headsets around other people makes them feel uneasy (thanks, Glass).
Instead, Sony reckons its hardware is ideal for slipping on during a few hours out on the golf course or while taking a bike ride into the woods.
The Sony headset also appears to lack Glass' most infamous feature: a builtin video camera. Rather, users have the option of pairing with another camera – say, a GoPro – over Bluetooth should they wish to film the world around them. Having said that, the mockup of the gizmo appears to have a small cam on it anyway, confusingly.
Sony said it plans to show off the device at next month's CES extravaganza in Las Vegas, and put the headsets into production over the coming year – though no specific release date for the device was given. ®