Microsoft kills its Euro pane in the a**: The 'would you prefer Chrome?' window
Time runs out on mandatory non-IE installation tool
Fresh Windows PCs in Europe will no longer offer to install Google Chrome and other web browsers rivaling Internet Explorer.
That change, quietly announced on a Microsoft support website, marks the end of a European Commission-mandated period during which users had to be offered a choice in web browser when they installed Windows or switched on a computer running the OS for the first time.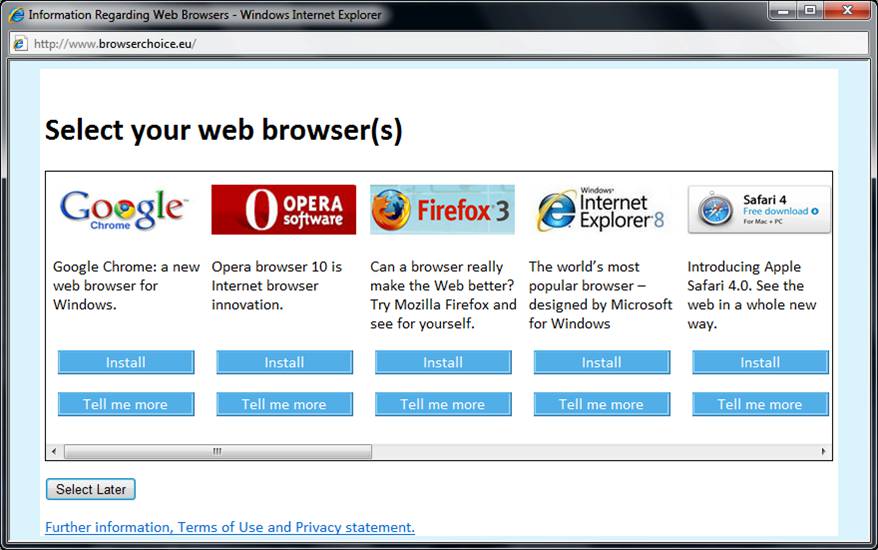 Browse the browsers ... the mandatory ballot selection screen shown on fresh Windows installations in Europe as a result of Microsoft being accused of abusing its monopoly
"Microsoft provided the Browser Choice update in accordance with a decision issued by the European Commission in December 2009," the Microsoft support article, published on Wednesday, reads.
"The obligations imposed by that decision have expired and as a result the Browser Choice Update will no longer be delivered to new users."
In 2009, Microsoft agreed to include a tool that allowed users in Europe to select from using Internet Explorer or number of rival browsers, such as Opera, Chrome and Firefox. Previously (and in other parts of the world) fresh versions of Windows simply installed IE and set it up as the default app for web browsing.
That selection screen was part of an antitrust settlement Microsoft struck with European regulators that same year following allegations the US giant was abusing its position of dominance.
At the time, IE was the most-used web browser in the United Kingdom by a wide margin. In December of 2009, NetMarketShare estimated IE had a 63.9 per cent slice of the desktop market pie; the closest rival, Firefox, had 25.02 per cent.
While the EC wanted to foster more competition for Microsoft in the browser wars, worldwide IE still holds a dominant stake with a 58.49 per cent share. Redmond does have more competition these days on the desktop, as Google's Chrome has a 21.25 per cent share and Firefox 13.91 per cent stake in the market.
A spokesperson for Microsoft was not available for further comment. ®