Misfit Flash and Misfit Shine

Here's a clever idea, make what is effectively the same product from different materials and sell them at different price points. These biscuit shaped devices slot into a wristband or clasp (and now a necklace) with the Misfit Flash being made out of coloured plastic whereas and the Shine is put together with high-grade aluminium, also available in different colours. Both to connect via the Misfit app and feature a coin cell battery that lasts around 6 months.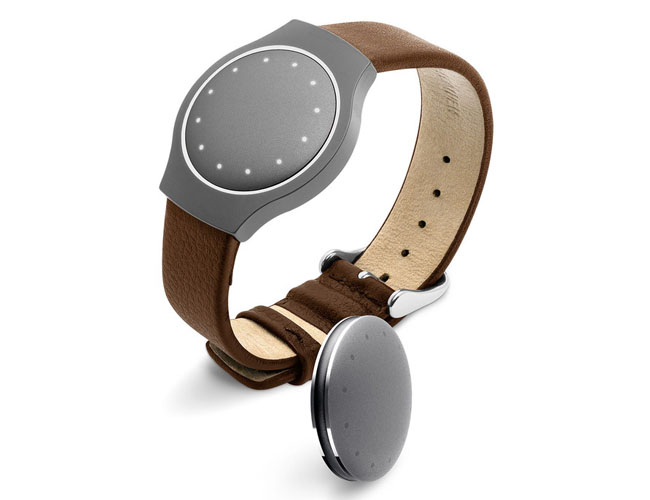 Stylishly minimalistic, whether worn as a wristband or attached to clothing, the Flash and Shine monitor steps taken, sleep patterns and they are good choice for swimmers as they're waterproof. It paired instantly with the Misfit app but this software shows little more than steps, calories burned and sleep over a period of time. You can enter in your weight to get an overview of your progress and it integrates with the massively popular MyFitnessPal that can track your diet too.
Flashing LEDs illuminate when tapped to indicate steps taken in the day and another tap shows a rudimentary clock. As a basic activity tracker it does the counting very well and recommends different positioning of the device for walking, cycling and swimming. Versatile as a wearable the soft silicone wristband is comfortable and non-sweaty when working out but hard core runners should look elsewhere.
Price
£50 (Flash), £80 (Shine)
More info
Misfit
Nike FuelBand SE

Whereas many fitness wearables look only slightly better than a hospital wrist strap, the Fuelband SE has a touch of biker style about it. Neon colours are available for the inside of the band but aren't visible when worn – but makes it easy to spot amongst your training clobber. It features a limited LED display including a digital clock and, on average, clocks up a four-day battery life.
The functions are packed in with step counter, motion detection, and accelerometer and it's water resistant too but, alas, not enough for swimming. One button activates all commands and it charges up by plugging directly into a computer or a USB PSU.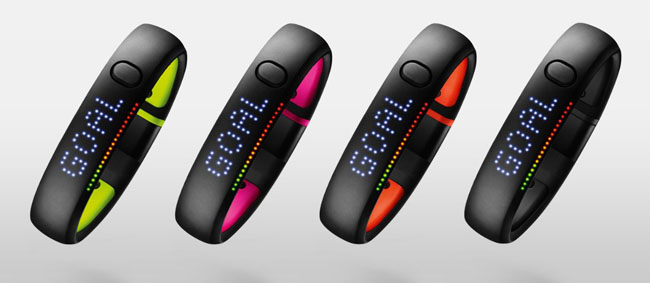 Setting up the Nike Fuelband SE took longer than all others on test. First, software needs to be downloaded to a computer, a user account created and then the Fuelband SE is plugged into the computer to link to the account. After this, the mobile app is downloaded and paired.
Feedback on the app comes from collecting Fuel points, all exercise counts towards getting fitter with Sessions – the latest addition for intense activities – activated by holding down the button on the band for a few seconds until the LED flashes START. If you want to tag your location with GPS, go to Sessions on the mobile app and tap the clock face in top right hand corner. With its lifelogging features and motivational challenges, for hardcore runners, the Nike FuelBand SE doesn't disappoint.