Microsoft Band

As a fitness tracker and simple smartwatch the Microsoft Band ticks a lot of boxes. This strap on will keep you updated with notifications for incoming texts, email, Twitter and Facebook, with the default Me Tile displaying time and steps taken (or your preferred tracker) when the power button is pressed.
The Band works with the Microsoft Health app and beside Windows Phone is also compatible with Android and iOS. Data can be used with MyFitnessPal and RunKeeper too. Battery life is just two days but even less if you take it for a run and use the built in GPS. It's chunky and heavy on the wrist, which isn't surprising given all the tricks it performs.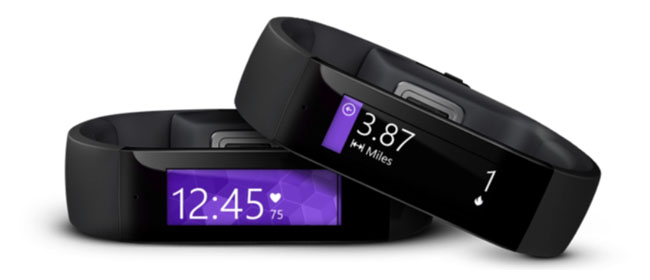 Other features include: heart rate sensor, accelerometer, gyrometer, skin temperature sensor, UV sensor, capacitive sensor, choice of workouts and a microphone for Cortana voice activation commands. Just bear in mind that it's not waterproof for swimming.
To use, swipe through the typical Windows tiles to get to app wanted. For example, if starting the running tile, it prompts you to turn on the GPS, then once running the app tracks heart rate, as well as calories burned. While the Band is up and running in the States, Microsoft was unable to confirm if its strap on will go on sale in the UK but at the current price, it's expensive, and for a little bit extra it's worth considering one of the more fully featured smartwatches.
Samsung Gear Fit

The Samsung Gear Fit's bright AMOLED touchscreen display conveys plenty of fitness tracking information horizontally but can also be viewed vertically too, which works better when used as a watch. This wearable notches up a five-day battery life and easy sync with a recent Samsung phone or tablet – 17 devices at the last count. Indeed the Samsung tech prerequisite will be the reason you either buy one or you don't.
The exercise section includes running, walking, cycling and hiking, with the GPS from your Samsung smartphone used to track a session. Activity stats are recorded in graph form on the Samsung S Health app. Currently, your health monitoring can't be shared with MyFitnessPal but a worthy alternative is Endomondo which can use this data with the exception of the heart monitoring.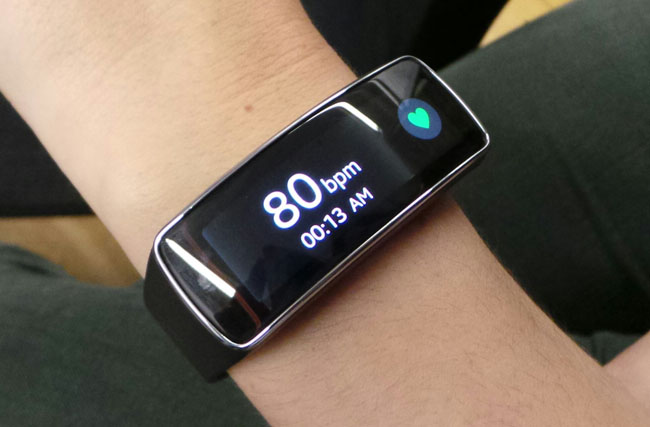 Messages and incoming calls can be set to provide a vibration alert and you can read texts and emails on the go, but the screen shape makes this a bit troublesome. In landscape mode, it's awkward to view from the wrist and in portrait mode you only get one or two words per line so there can be a lot of scrolling involved. Incidentally, you can do fun stuff like changing music tracks from it.
A larger loose fit wristband than most, the Gear Fit matches the VivoSmart in quality and strap comfort and the Sony SmartTalk in terms of style but remember this device exists in a walled garden for owners of Samsung mobile tech.