Withings Pulse O2

Withings is building a name for itself with its range of techie health products that include Wi-Fi scales, a Smart Body Analyser and a blood pressure monitor. The company has recently announced its Activité Swiss made watch, but that'll set you back £320. Much cheaper is the Pulse O2 (or Pulse OX in some regions), a clip or strap on activity tracker featuring a built-in heart rate monitor, altimeter, sleep tracking and whopping two-week battery life.
Features include OLED touchscreen and links up to the Withings Health Mate app which can link up with other Withings devices, so it can be part of a system that's more about keeping tabs on health than the sporty side of fitness. That said, it also integrates with MyFitnessPal and RunKeeper.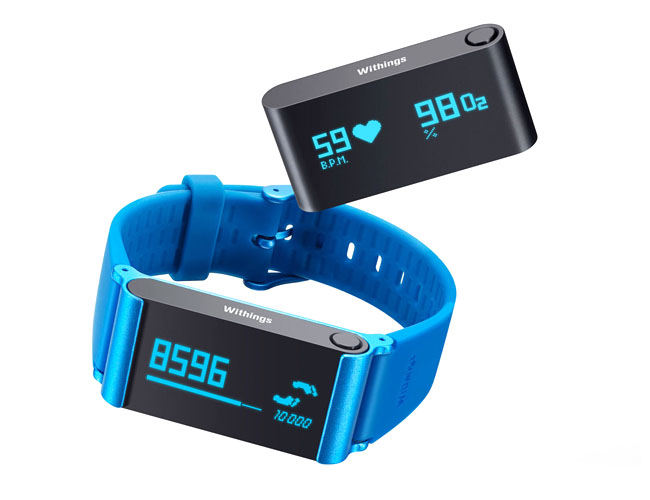 The heart rate sensor is good to have but to use it the Pulse O2 needs to be removed from the clip so that readings can be taken from your fingertips. Unlike other devices, it also monitors blood oxygen levels, which ensures enough oxygen is getting through to muscles. How useful this can be is questionable (high altitude climbers perhaps?), as for most, the figure stays above 95 per cent with medical assistance only required if dipping below 90 per cent.
The rubber strap is comfortable, but the design looks a bit cheap, so most will probably prefer the clip as an alternative to wear on clothing. While it doesn't look as impressive as the VivoSmart, if you're a hiker or love counting how many stairs taken, the altimeter is worth having. It's also one of the cheapest all-rounders you'll find with heart rate monitoring.
Serious heart condition?
If your training borders on religious dedication and biological science, then you should be shopping for a wearable that's a dedicated heart monitor and tracking device for cardio training.
Adidas miCoach Smart Run

The main selling point of this strap on is the accurate heart monitor and realtime coaching. You simply swipe through to Quick Start, then tap Get Ready to record pulse rate during training. While the smartwatches in this section were also accurate for heart monitoring, none were as instantaneous as the miCoach in getting a reading, nor as constant in maintaining the pulse information.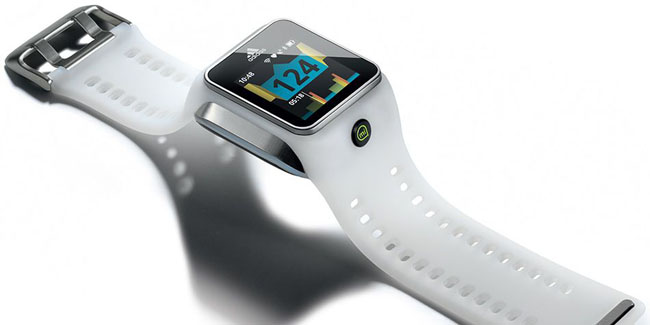 Among the features are on-screen coaching and a workout review. There's 4GB of storage for music (3GB) and data too. When paired with wireless headphones (not supplied) you can listen to music and receive audible coaching. The captured data is used to update fitness readings with a PC or Mac via Wi-Fi and an miCoach user account. This part was fairly easy to set up and the LCD touch screen watch very easy to use. The miCoach Train and Run app can be used to select a cardio training plan and monitor stats.
A single button to turn on or jump back to the main screen makes it user friendly, but it's big and chunky on a female wrist and the clasp gets in the way if used as an everyday watch, especially when typing on a laptop. It can get a bit sweaty but comfortable all the same. Built-in GPS records a range of data during runs and cycles, with distances and timings. However, battery life isn't great, lasting only 4 hours or without music up to 8 hours. Designed for a very specific breed of fitness fanatic, the Adidas miCoach Smart Run is certainly not cheap, but its built-in GPS and instant heart rate reader will always add to the cost.
Sponsored: Ransomware has gone nuclear