Pebble Steel

No wearable review can be done without including a Pebble. Despite the fact that you can't talk to it, this brand is one of the best at producing smartwatches that work with iOS or Android. The Pebble Steel look is retro with a touch of sophistication, with a leather strap for comfort or metal strap if preferred.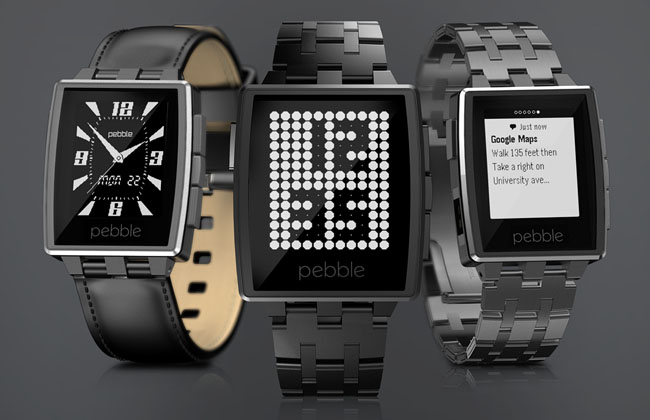 The smart stuff includes instant notifications for incoming calls, SMS, emails, calendar alerts, with silent vibrating alarm and timer (very discreet if in a meeting). The Steel lacks a touchscreen but the monochrome LCD screen, and low spec – 80MHz ARM A3 CPU, 512kB of RAM, and a mere 8MB of storage – help deliver a seven-day battery life.
Apps from the Pebble appstore include fitness tracking, running, cycling and controlling music. It's waterproof too and swim.com has an app designed for use with Pebble watches. If you want a traditional watch that's also on the smart side, all Pebble watches get a continuous thumbs up.
Samsung Gear S

This is essentially a mini phone on your wrist with a dual-core 1GHz processor, AMOLED display and a nano SIM slot to make and receive calls without using a phone – although you need one for the initial SIM set-up.
In comparison to the LG G Watch R and Motorola 360, Samsung has packed everything into this rather chunky bracelet that works exclusively with Samsung mobile devices running Android 4.3 and later. Large it may be, but it's actually light and comfortable to wear, as the curved body helps it fit more naturally around the wrist. The watch strap is made from black plastic and faux leather giving it a futuristic look.
Activated from one button, you then swipe through the various menus. It has built in GPS, accelerometer, gyroscope, compass, heart rate monitor, UV and barometer. As you begin to learn its ways, you'll soon be searching for the screen timeout settings or it switches off after just 15 seconds. Energy saving, yes, but annoying at first, although it can be set to stay on for up to five minutes.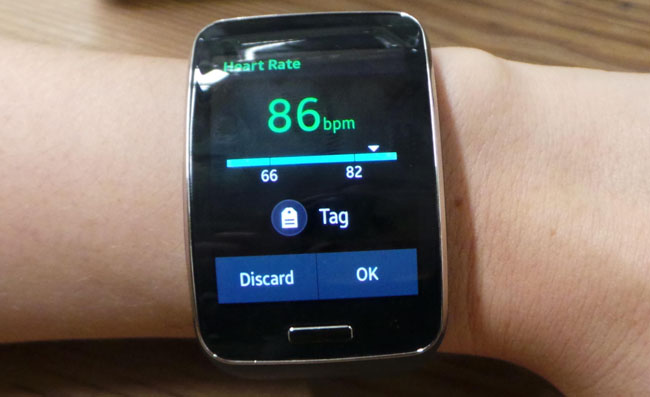 Set up was quick from downloading the Samsung Gear manager app to a mobile then click on search for devices. With Bluetooth you then click to pair to bring in information and contacts from your phone.
The Gear S can continuously monitor your heart rate and depending on how recent your Samsung phone is, data can be shared with the S-Health app. In tests, the heart monitor worked on every attempt for cardio training. Another nice touch is it doesn't need to be connected to a phone if out running or at the gym. Still, it's expensive and you're tied to Samsung mobile products to get the most out of it.
Price
£329 (on sale from 9 January 2015)
More info
Samsung