This article is more than 1 year old
Toshiba joins the exclusive, three-member 6TB disk drive club
Developing disk drive density mini dramarama
Toshiba has joined Seagate and WD/HGST in the 6TB disk drive club, still so exclusive that it only has three members.
The MG04, with capacities of 2, 4, 5 and 6TB, spins at 7200rpm, making it a nearline drive. Toshiba claims it is good for 24/7 usage.
It has 12Gbit/s SAS or 6GBit/s SATA interfaces and a secure instant erase option to prevent encrypted data falling into the wrong hands.
This is a 2nd generation MG04 drive in effect. The prior one topped out at 5TB and used 6Gbit/s SAS and SATA interfaces.
As one would expect the range supports both industry-standard 4K native and 512e Advanced Format sector technologies. Tosh said the product has persistent write cache technology which protects against data loss when power fails suddenly.
Compared with the 4TB MG03 generation drives the uprated MG04 6TB jobs feature:
12Gbit/s SAS and 6Gbit/s SATA interfaces instead of 6Gbit/s SAS and SATA
A 30 per cent increase in max sustained data rate - 205 MiB/s compared with MG03 Series 4TB model's 157MiB/s
50 per cent better power efficiency (watts per terabyte)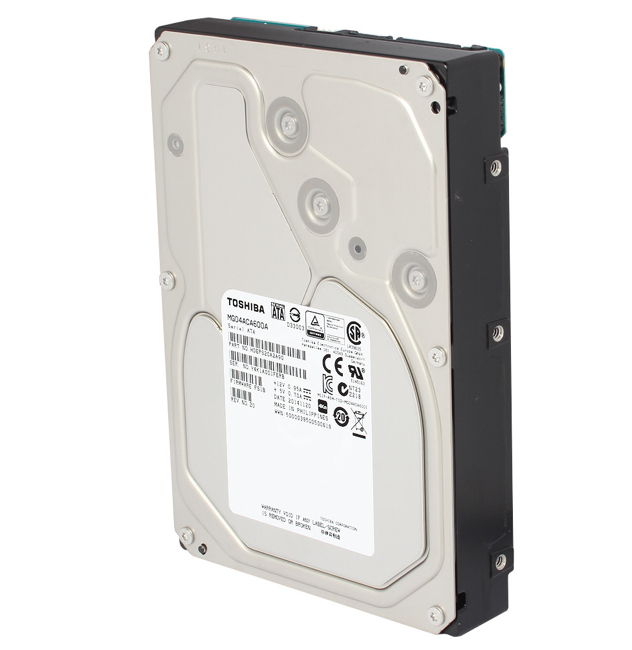 Toshiba MG04 disk drive
The drives weighs 720gm at 2TB and 770gm at all other capacities. The dimensions are H:26.1mm, W:101.6mm (±0.25 mm), L: 147mm (max). Toshiba doesn't reveal the number of platters or the areal density of this second gen MG04 product.
Seagate has an 8TB drive and HGST goes up to 10TB with its helium-filled Ultrastar drive. Can Toshiba keep up? We'll keep you posted with up-to-the minute despatches from the developing disk drive density details dramarama.
Tosh's 6TB MG04ACA SATA and MG04SCA 12Gbit/s SAS models will begin sampling to OEM customers in Q1 2015. ®