Fujitsu's customers come big data samba dancing
Get down on the analytics dance floor
---
Fujitsu is helping its customers get up (and down again) on the big data dance floor and do the analytics samba with an integrated bundle of HW and SW and services called PRIMEFLEX for Hadoop (PfH - our initials) to save customers from any DIY aggro.
Fujitsu's PRIMEFLEX - the company loves all-caps product names - is an integrated or converged Primergy server-based system brand, adding in networking, storage, and system/middleware software (including management and support) to produce an appliance-like offering.
The software can come from Microsoft, SAP and VMware and Fujitsu aims to produce around 20 models focussed on different use cases. Think Fblocks, like Vblocks, and you won't be far wrong.
There's a PRIMEFLEX for EVO: RAIL and an in-memory-data grid version; PRIMEFLEX for Terracotta BigMemory.
PfH is the latest variant, and called an enterprise data hub. It contains:
Primergy cluster using either CX (entry) or RX (rack systems) or CX multi-node servers
Switchless torus network
10GB/sec iner-connect
Datameer Software 5 - self-service big data analytics software
Cloudera Enterprise 5 - open source Hadoop software distribution
There are different versions of PfH, with one optimised for storage-intensive tasks and another for processing-intensive work. They are packaged into complete systems with a single part number.
We could think that a Datameer is the Dutch equivalent of a data lake. It being self-service means that query set-up is much faster than waiting for IT admins to set them up for you, according to Fujitsu.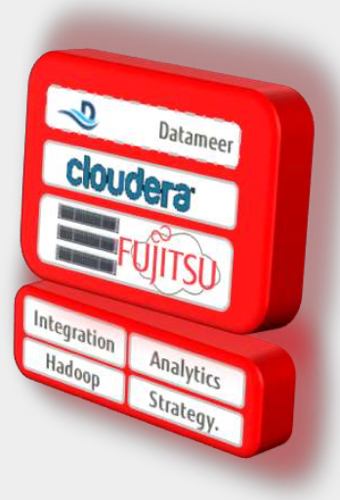 Some PfH components from marketing doc.
There is a set of available services; big data strategy consulting, analytics and Hadoop consulting, and integration services for entry-level and rack-level PfH configs. Fujitsu said it has set up a European-based Big Data centre of expertise which customers can tap into.
Potential customers for this system Hadoopery will be in finance, IT management and marketing business units in market sectors facing big data onrushes. They'll be looking to get up and running faster than by building their own big data analytics set-up from separately-bought components.
Get a PfH datasheet (pdf) here. There is a slide deck here, but you have to be a registered Fujitsu partner to access it.
PRIMEFLEX for Hadoop is available to order as a ready-to-run integrated system for on premise use. Fujitsu will introduce a service offering running in the Fujitsu Cloud some time in 2015. ®