Big Eyes falls short on the big question of popular art
A funny and moving dig at the patriarchal 1960s
---
Film review The ingredients are all there for an Oscar-winning film in Big Eyes. Multiple Academy Award nominee Amy Adams and one-time winner Christoph Waltz play Walter and Margaret Keane in a flick based on a true story about pop culture and high art in the 1960s.
Margaret ships up in San Francisco in the late 1950s, a single mother and divorcee without a thing to her name aside from walls of her paintings – waif-like children with huge, dark expressive eyes.
Although she left her husband in an era when few did, she's not a terribly strong person and is still full of naivety and trust. Which is why she falls easily – and hard – for the patter of Walter Keane, a fellow artist full of tales of gay Paree and fine art, above all things, despite the fact that he supplements his "Sunday painting" with a job as a realtor. At the first sign of trouble, she's happy to accept Walter's protection from a harshly patriarchal world in the form of a spur-of-the-moment marriage proposal.
Aside from charming the ladies, Walter is a consummate salesman and self-promoter and, fed up with the establishment throwing aside his endless paintings of Parisian boulevards, soon has a scheme cooked up to get his art noticed. He hires the walls of a local jazz club and when he later gets into a drunken brawl with the proprietor, learns that any publicity is good publicity when folks start showing up to see the pictures "grown men fought over". Unfortunately, it's not his workaday Paris streets the masses are drawn to, but his wife's doe-eyed children, which through misunderstanding and omissions, he comes to claim as his own.
Partly charmed, partly bullied and partly lured by the financial gains, shy Margaret goes along with the ploy, allowing Walter to take credit for her work even to her own daughter. It's not long before she's safely tucked away at home churning out Keanes, while he wines and dines with the rich and famous. Yet eventually, isolated by her secret, Margaret starts to want her own recognition.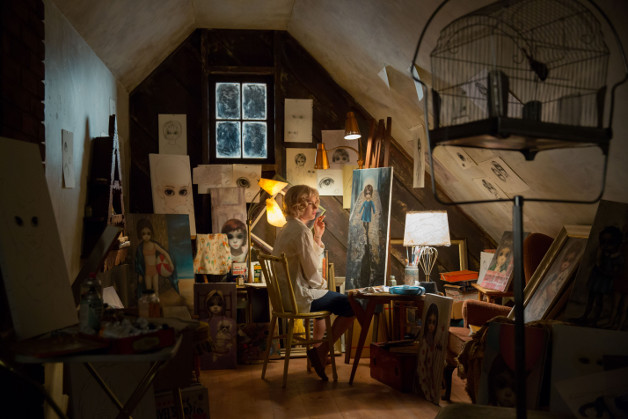 Big Eyes finds both humour and pathos in Margaret's situation, a woman with a muted streak of independence stuck in a suffocatingly patriarchal time, as when a Catholic priest in a confessional advises her that lying is okay when done at the behest of the man of the house and the head of the family. As insult is added to injury and Walter becomes ever more tyrannical, you root for her utterly and never feel that the situation is her fault when the web of male authority is shown to be so subtly and inevitably woven around her.
Where the film is less clear is on Margaret's art, labelled "kitsch" by Terence Stamp in a very funny cameo as a high art critic. He contends that just because people like it, that doesn't make it art and both he and the arrogant hipster-like gallery owner played by Jason Schwartzman clearly feel vindicated in their position when the truth of the hucksterism behind the paintings comes out. But we fail to hear a voice that sticks up for Margaret's art. A quote from Andy Warhol at the start of the film seems to echo its stance on her paintings:
I think what Keane has done is terrific! If it were bad, so many people wouldn't like it.
Read one way, it's a stab at the establishment. Yet read another way, it's a backhanded compliment that implies that popularity is the only value. Since that popularity is shown to be in a large part engineered by Walter's PR campaign, you're left wondering if the paintings are meant to be good or not. Perhaps that's the intention, but it makes it more difficult to back Margaret's commitment to her work above all else, even her own and her daughter's happiness.
A stronger stance on the art question might have pushed the film up the Oscar rankings, but as it is, it seems too frothy to carry Academy pretensions, despite a joyfully Machiavellian turn from Christoph Waltz and a moving complex portrayal by Amy Adams. However, it is a thoroughly enjoyable film about throwing off the shackles of one kind of authority or another, be it the patriarchal society or the high-brow intelligentsia, and who wouldn't get behind that? ®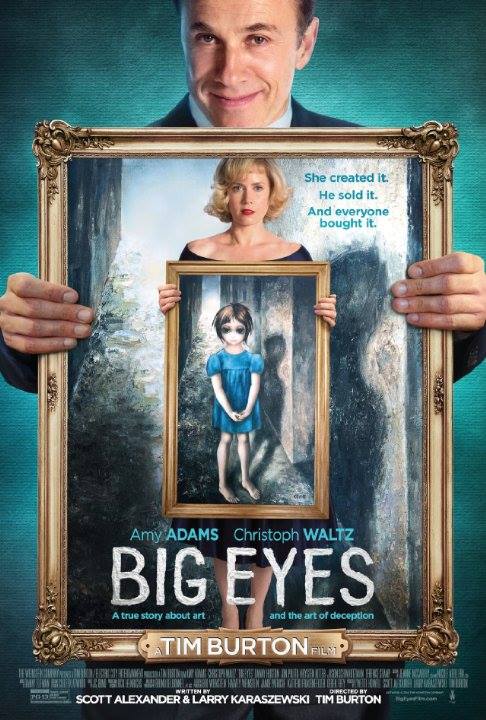 Title
Big Eyes
Director
Tim Burton
Cast
Amy Adams, Danny Huston, Krysten Ritter, Jason Schwartzman, Terence Stamp, Christoph Waltz
Release Date
26 December (UK/US)
More info
Movie web site