French tablet, smartphone, soon-to-be-smartwatch, and "connected objects" maker Archos has announced an Android-powered netbook that will be available this June for the low, low price of "under $170" – and yes, as you might have guessed, that means $169.99.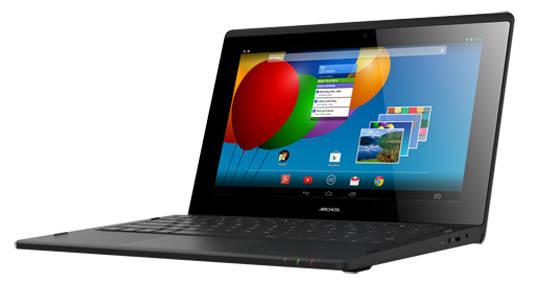 Modesty can be a virtue (click to enlarge)
"Archos ArcBook combines a consumer-friendly tablet experience with the productivity of a netbook," Archos CEO Loïc Poirier said in a statement. "The ARCHOS ArcBook furthers our commitment to providing feature-rich, consumer-friendly technology at an affordable price."
The ArcBook includes a 10.1-inch 1024-by-600 pixel touchscreen display, front-facing camera, twin speakers, MicroSD card slot, nine-hour battery, and a keyboard and trackpad – plus two micro-USB 2.0 ports, should you prefer to supply your own mouse.
The li'l fellow includes 8GB of flash storage and 1GB of RAM, runs Android 4.2 "Jelly Bean", and is powered by a dual-core ARM Cortex-A9 running at 1.2 GHz. Not top-of-the-line specs by any means, but if all you want is to mess about with documents and spreadsheets, listen to some MP3s, and view video, it should be quite up to the task.
That 8GB of storage won't hold much, of course, but as the Rise of the Chromebooks is amply proving, what are Wi-Fi and the cloud for, anyway?
The ArcBook weighs in at a svelte 1.28kg (2.8 pounds) – a few jelly beans heavier than the 1.08kg (2.38 pounds) MacBook Air. The Air, however, will run you $899 at its entry-level configuration; you could buy five ArcBooks for the price of a MacBook Air and still have plenty of cash let over to spend on goodies in the Google Play store.
Speaking of apps, the ArcBook comes equipped with suite of productivity apps, OfficeSuite Pro 6 by Mobile Systems, which Archos describes as a "critically acclaimed application [that] allows you to view, create, edit, print and share Word, Excel and PowerPoint files as well as open attachments and see PDF files."
No, it may not play Crysis, but odds are you can find enough entertainment on Google Play to tide you over between productive sessions. ®