Feature Missed out on a date at the Christmas party? So did we ... but as the joke in the cracker said, "Why is a smartphone like a milkshake? Because it brings all the boys to the yard."
Online dating has changed a huge amount in recent years. Not so long ago, even some of the big names in dating had sites that hadn't significantly changed in their approach. Sign up for a free trial, for instance, and while you might be told of potential matches, and be shown sketchy details of them, actually being able to communicate, or see what they look like, required forking over hard-earned cash. Fair enough; it's one way to run a business.
But now that we all have smart devices in our pockets, we often fancy something a little more immediate, and we're used to things being free, or at least not hugely restricted. Also, let's face it, for all the talk of romance some of us, men being what they are (don't worry, we'll be looking at this from a female perspective in a later piece) tend to want something more immediate.
There's also a big difference between the world of apps and traditional dating sites, too. When it comes to apps, most of us expect them to be free, and that includes looking for love, too. While it might have seemed reasonable a decade or so ago to pay a monthly fee to Dateline, or the Guardian's Soulmates, why bother, when a huge array of apps offers fun, frolics, and romance at the tap of a button?
Pick an app, any app
Depending on what you're looking for, there's a huge number of apps out there. Some have accompanying websites so you can browse at home, while others are based just around the mobile . There's an app for everything - okCupid is one of the largest, Tinder is more like a game, the gay community arguably kick-started app-based partner finding with Grindr, which has imitators like Scruff. And then there are more 'specialist' ones too, just in case you want to find someone nearby who shares your love of neoprene.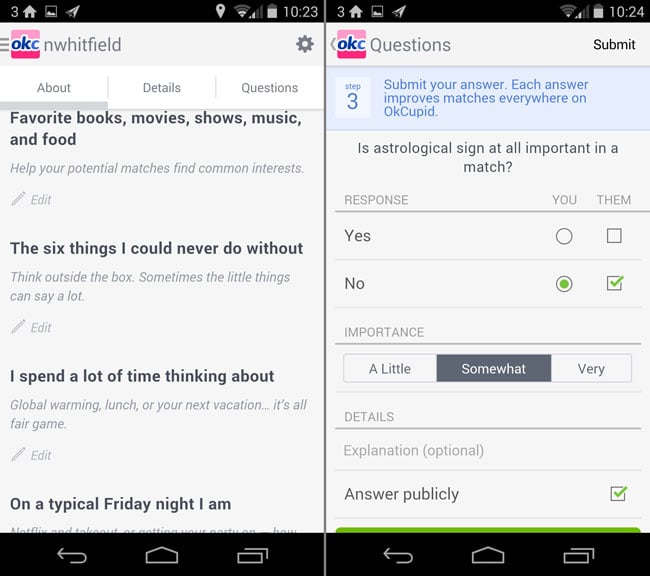 Like a traditional dating service, OKCupid asks lots of questions, the better to match you with mates
Once you've picked an app, you need to create your profile; this is how you're going to reel in potential partners or playmates, and how it's done varies a lot between apps. On okCupid, it's quite reminiscent of a dating service, complete with questions like "Could you date someone who's really messy", to which I hope the answer is yes, because my office looks like a bomb site. There are also political and maths questions, and the basic profile is structured into sections.
Many other apps have either a simple "about me" section, or that and "what I'm looking for". Tinder takes things to the opposite extreme – and perhaps this is why it's taken off so much. You barely need to do anything, as it uses Facebook sign in, and grabs name, age, photos and your description from that site. You can tweak the bio, if you need to. Compared to other apps, this means you can be up and running much quicker. On the downside, if you don't remove them from the app, it may mean you're showing prospective mates a really goofy photo that looked fun on Facebook.
A thousand words
Sometimes, a picture can tell you an awful lot – and that's certainly one area where apps tend to beat the more traditional sites. If all you saw was a list of people in the area, with a description and no photo, it would be a pretty dull app. A glance at a photo may be all you need to make a decision about whether or not you want to send a message. That, after all, is pretty much the whole point of Tinder.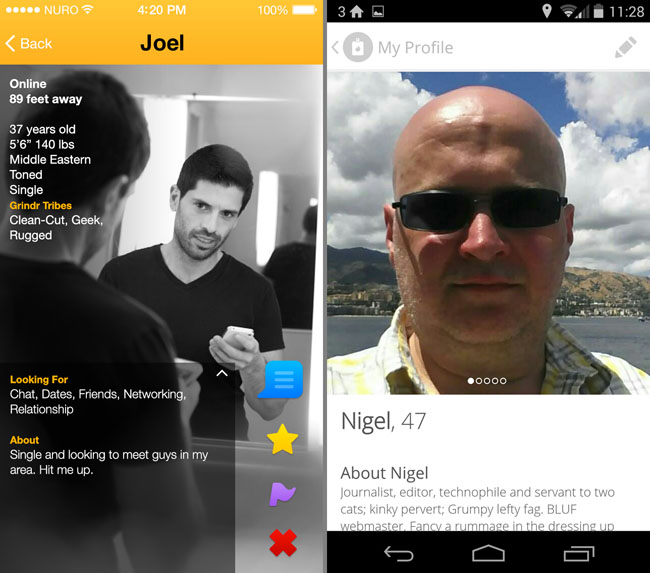 One of the first location-based hookup apps, Grindr (left) now has plenty of competition. Tinder (right) collects information from Facebook, so it's incredibly quick to get up and running
After a while, you'll get to notice themes. Tinder, for example, has its endless pictures of Macchu Picchu, or people posing with big cats that have likely been drugged. The huge number of photos taken at the Holocaust Memorial in Berlin has even spawned a blog, Grindr Remembers.
Of course, photos aren't always what they seem; some can be suspiciously familiar – I'm pretty sure Ryan Gosling hasn't moved to East London and started looking for love on Tinder, for instance. Some may simply be a little out of date. We all like to show ourselves in a good light, but if you're planning to meet someone, a recent photo will at least save some awkwardness. They've come to meet you, after all – not the you of fifteen years ago.