VMware says anyone - not just EMC - can play with its best bits
ScaleIO kernel links are through public API, not an exclusive back door
Ever since VMware launched the virtual storage appliance back in 2011, observers have wondered if the company's storage efforts hurt its parent EMC's business.
Such pondering became more intense when VMware launched VSAN earlier this year, as the software-defined storage product is a direct competitor for some EMC arrays, in some scenarios.
Throw in activist investors who think the EMC Federation could do with a bit less internal competition and/or overlap, and VMware's attitude to software-defined storage becomes a matter of justifiable conjecture.
And in early December, EMC thrust its ScaleIO server SAN into the VMware kernel, creating another storage-through-software option.
VMware says news of the ScaleIO plan saw it receive "… a great deal of questions from our customers and partners about differences between Virtual SAN and EMC ScaleIO … asking us about where Virtual SAN should be used, where ScaleIO should be used, and whether there's any real difference between the two."
VMware's answer, posted here is that "There are no plans to port the core ScaleIO product in the ESX kernel or integrate it with the rest of the vSphere stack."
"Recent press articles," the post says, caused "confusion".
Those articles would probably be this one from French outfit LeMag IT and our own thrust linked to above.
El Reg's virtualization desk guesses EMC and VMware have copped a bit of heat over this, because the denial post is rather lengthy. It explains that "VSAN is designed specifically around tight integration with vSphere – with the objective of providing super-simple management and very high levels of performance for vSphere VMs"

This is a VSAN
ScaleIO's job is "to provide highly scalable server-based storage for heterogeneous platforms, including multiple hypervisors and physical servers."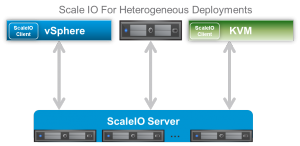 This is a ScaleIO not-SAN
The confusion VMware's unhappy with probably came about because there's a kernel of truth in the integration of ScaleIO and ESX.
Here's how that integration works, as explained in VMware's post:
EMC has written an ESX kernel driver that implements a ScaleIO client module. It 'talks' the ScaleIO protocol and accesses the ScaleIO server(s). It exposes storage to VMs running in vSphere in a way similar to iSCSI volumes. This ScaleIO driver has been written using public kernel APIs that are available to any VMware partner who develops kernel drivers in ESX. The ScaleIO server is not being ported in or integrated with vSphere and the ESX kernel.
The point here seems to be is that anyone can use VMware's public API to do the kind of kernel-work EMC's done with ScaleIO. So EMC's not getting privileged access to ESX or any other VMware tech. And because the two products are so very different in design and purpose, there's no competition between EMC and VMware. But the two do compete in the overall software-defined storage market, which is proper.
No wonder investors are confused. ®