This article is more than 1 year old
Sound and battery: 20 portable Bluetooth speakers
Music on the move
Product Roundup The arrival of Bluetooth 4, with its reduced hunger for power and support for audio codecs like aptX and A2DP means that there has been an explosion in the availability of Bluetooth speakers which connect to computers, tablets and smartphones, and are often small enough to be chucked in a bag and taken to the park or beach.
From long-established audio brands like Sony, Philips, and Pioneer, to newcomers like Braven and Jabra, and even those not associated with audio, like Ted Baker, everyone, it seems wants a piece of the action. Even names more often associated with expensive hi-fi kit like Bose, B&O, and Harman Kardon are getting in on the act.
For your listening pleasure, we tested 20 speakers for audio quality, ease of connectivity and portability.
While all the speakers on test supported wireless connection by Bluetooth, each had additional features too. Many have support for NFC, meaning you can pair them with an NFC-compatible smartphone or tablet by placing the phone on or near the speaker, without having to root through the Bluetooth settings in Android.
In our tests, NFC worked on all those which boasted it, with the exception of the Libratone (which saw our Android phone and attempted to pair but failed), and the Ultimate Ears which didn't register the presence of the device at all.
Most speakers have auxiliary mini-jack inputs, allowing you to connect audio gear directly, while the Braven 705 can push its output to an external amplifier, allowing you to turn any amp or hi-fi into a wireless music system.
Many of the speakers can also be used as a speaker phone; pressing a button on the speaker mutes the audio and activates a microphone. Finally, the Jawbone Jambox, Ultimate Ears Boom, and Braven 705 have a function where, if you have two of them, you can link them wirelessly and use them as a stereo pair.
B&O Beoplay A2

Bang & Olufsen's Beoplay A2 is one of the biggest speakers on test. Nearly 30cm long and just over a kilo in weight, it's not as easily portable as the others here. It is, however, the most stylish. The slim profile, aluminium grille, and leather strap mean that it looks terrific.
It also has a trick up its sleeve; there are speaker drivers on either side, front and back. B&O claims this gives it a '360˚' sound and that it reproduces stereo. While this is true, I found the effect only really worked if I put the A2 in a corner, where the audio waves from the two speakers could reflect outwards from the walls. Otherwise, the speakers, back to back and right next to each other, didn't sound like they were in stereo at all.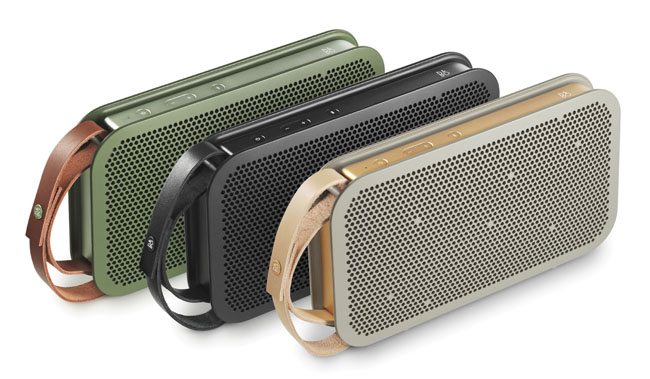 Nevertheless, the audio fidelity is, as you might expect from B&O, excellent. Bass, treble, and mid-ranges were handled with aplomb and the overall effect was a 'roomier' sound, compared to others where frequencies felt tightly bunched together.
The A2 isn't the speaker to go for if you want extra features, aside from an aux input, and a USB socket from which you can charge your smartphone, there's nothing else here. It does, however, boast the best battery life of those on test, at 24 hours. If enduring portability and audio fidelity is what you're after, and you can cope with the eye-watering price tage, then the A2 should be near the top of your list.
Bose SoundLink Colour

Like the B&O, the Bose SoundLink Colour is all about audio. There's no NFC or speakerphone support here. There are, however, voice prompts to make it easier to connect, and, just as importantly find out when the connection has been made.
Its size and weight mean the SoundLink Colour is much more easily portable than the B&O, and it's hard plastic shell means it should withstand bumps and bangs. Audio fidelity surpassed every other small speaker on test.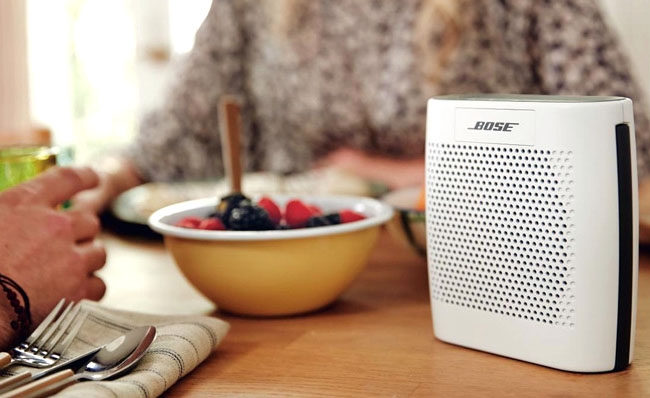 It wasn't quite a match for the larger speakers like the A2 or Libratone's Zipp, but it was surprisingly adept at handling AC/DC's Highway to Hell. There was enough bass to drive the song along and reproduce the excitement of the track, while at the top-end, Angus Young's guitar crunched as it should, rather than sounding harsh and spikey as it did on some speakers.
I also appreciated the USB wall charger in the box. Like the A2, it's not the one to go for if you need features like a speakerphone, and its eight hours of battery life is only average, but the SoundLink Colour sounds terrific, and if that's your key criteria, at £120 it's well worth considering.
Price
£120
More info
Bose