CLOUD-to-CLOUD backup: A chasm-Spanning leap
It's gonna boom as public cloud use for apps grows
Comment Cloud storage company Spanning's story is simple enough; you back up your apps and on-premises data, don't you? (everyone say "yes"...) You should back up your public cloud apps and their in-cloud data, shouldn't you? (let me hear you say "yeah!") Your existing backup software won't work there, will it? (everyone look down and quietly say "no"). Ours will, and it runs in the cloud, too.
EMC liked this SaaS message so much it bought Spanning in October.
Jeff Erramouspe, Spanning's CEO, presented the Spanning story at a Silicon Valley press tour in November, and told us all about it.
Founded in 2010 by Charlie Wood, who is its CEO
April 2011 - $3m A-round
March 2013 - $6m B-round
November 2013 - Jeff Erramouspe becomes CEO
October 2014 - acquired by EMC
Charlie Wood had a previous company with a calendar syncing product. He saw a need to fix calendar sync screwups by providing backup functionality.
Spanning has more than 4,000 customers, from non-profits through SMBs to enterprises, but had just 55 employees when it was bought by EMC.
Customers include Netflix, Seagate's Xyratex unit, Oculus VR, Logitech and Pivotal, which uses it to protect Google Apps and its Salesforce data. The most frequent driver of customers coming to Spanning is its experience and understanding of cloud data loss.
Its rise has mirrored the rise in public cloud use and the start of enterprises running core business apps up there. They, of course, are more concerned abut core business app data protection, and there the public CSOPs don't help much at all.
Erramouspe said: "SaaS vendors can't protect you from your mistakes ... SaaS vendors absolutely can't protect your data. Their focus is internal - coping with disk failure."
When data is deleted from Google it's simply not recoverable. There is limited recovery with Office 365, and although lost data is recoverable from deletion at Salesforce.com, it's only if you use its $10,000+ paid-for recovery service - ouch!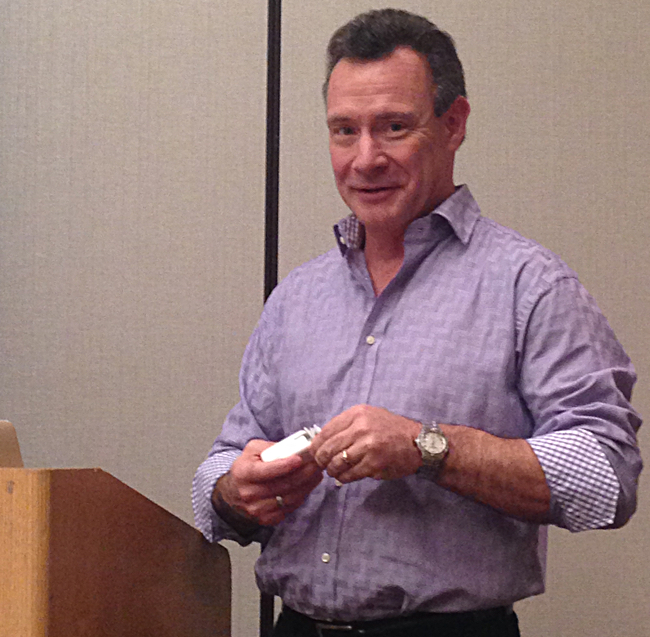 Jeff Erramouspe, who became Spanning's CEO in November 2013
Basically, you'd best assume you are on your own in the public cloud and need to make the same backup arrangements as you would in your own data centre. If you are subject to compliance regulated data protection then running your apps in the cloud doesn't get you off that hook, sorry.
Spanning Backup is "a secure, automated, daily backup solution that keeps a copy of SaaS data in a secure, private cloud ... [and] lets you get your data back the way it was in a matter of clicks," Erramouspe said.
"We only back things up when they change. We dedupe data within a customer account. We make two copies of our databases and we've never lost any customer data. We have unlimited storage for unlimited cost. We charge per user/per year," he added.
There is a version for Google Apps; Gmail, Drive, Contacts, Calendars and Sites. It features automated and on-demand backups and granular point-in-time restore. This is "protecting 350,000 Google Apps accounts, 4,000+ domains, billions of documents and emails". The product has a 100 per cent money back guarantee.
There is a second version for Salesforce and Spanning Backup for Office 365 is in beta test. General availability is expected before the mid-point of 2015. He is thinking about a potential migration facility, say, Google Apps to Office 365.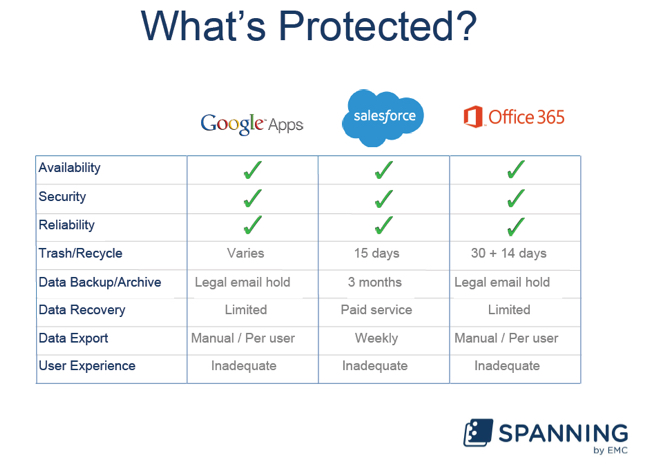 Spanning itself uses AWS as its own cloud provider, and he's considering archiving data, moving it from S3 to Glacier
The main competitor is another startup, Backupify, which was bought by Datto for an undisclosed account in November. Asigra is also in the competitive frame as its service provide customers for Cloud Backup can have their backups hosted on AWS. Cloud Backup supports Google Apps.
Intuitively El Reg thinks backup SaaS, or C2C backup as we might say, will boom as public cloud use for running apps grows. Every backup software supplier will need to consider having a SaaS version of their product; they'll be prevented from entering this market without it.
Symantec, for example, will need to move into this space. Perhaps it should look at Asigra as a potential target. ®