Q*Bertie Bassett
Davis developed the improved Faster, Harder more Challenging Q*Bert, with significant changes in enemy behaviour and further randomness to keep everyone on their toes. It also featured Q*bertha, a female-orientated alien who wants to get hold of our hero.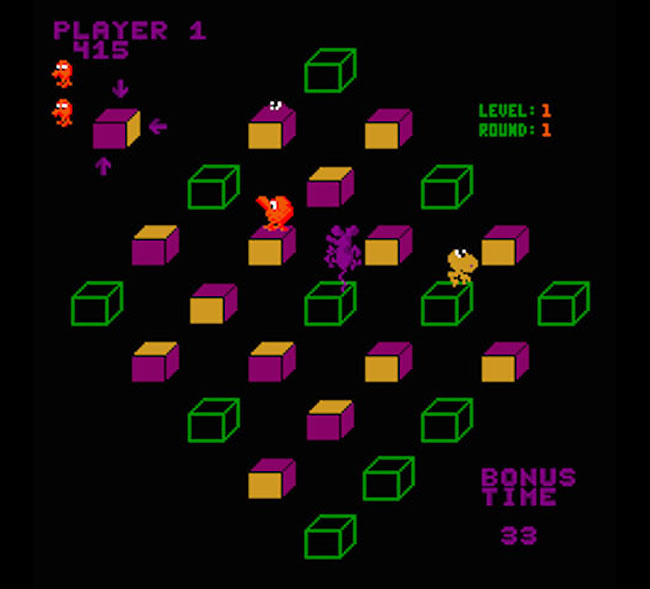 Q*bert's Qubes was a more puzzling affair
Unfortunately, when it turned out that – in reality – there weren't that many Q*bert machines being hogged for hours by know-it-all teenagers, Gottlieb decided the update wasn't worth releasing after all. A shame since the update was an improvement – though happily Davis released the ROM onto the net for free distribution in more recent times.
Of course, Q*bert lived on through many more sequels and conversions. Q*bert's Quest was Gottlieb's attempt to get back to their roots with a traditional pinball table, and Q*bert's Qubes (1984) was a new puzzling concept created by Neil Burnstein. The original title kept being re-hashed and survived into the late 80s, with a decent NES adaptation and a less decent Gameboy release. Q*bert 3 (1992) for the SNES saw Jeff Lee return to work on his characters with newly inspired levels yet still based on the original concept.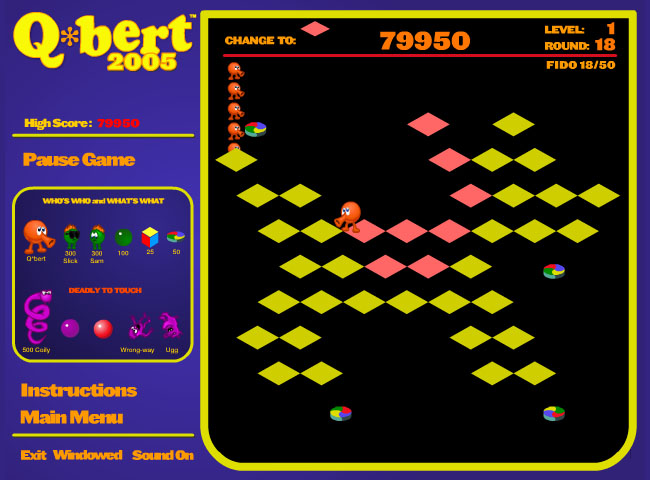 Q*bert Sony style
Artech Studios had a go at a fully 3D and moderately successful Q*Bert (1999) for the Playstation and Dreamcast. And with the license falling into the hands of Sony in more recent years, Q*bert 2004 and Q*bert 2005 graced Windows machines and played as Flash applets. 2009's iOS release of Q*Bert Deluxe contained the arcade's original layouts initially, later being updated with levels from the 2004 game.
Just this year, Gonzo Games and Sideline Amusement purchased a license from Sony to release Q*bert Rebooted. The revised aspect exchanges hopping between cubes for hexagons – making for a more complex experience. New enemies and variations crop up – character changes like Q*Zilla and Q*NiCorn are interesting little distractions. It's available through Steam and was supposed to appear on iOS and Android this year, though mobile versions don't appear to have materialised just yet.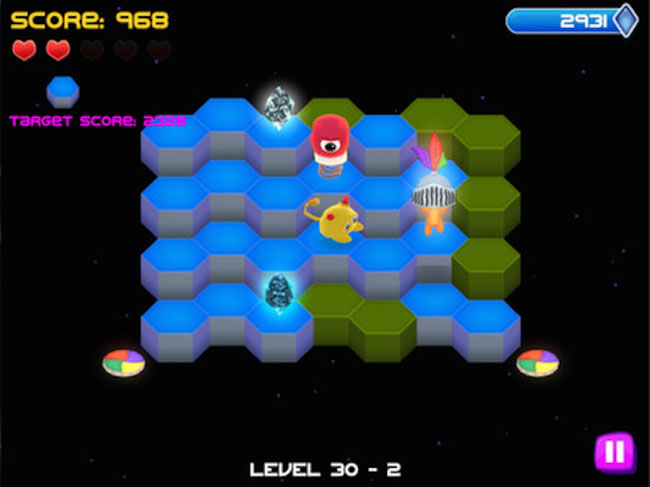 Hexagonal worlds in Q*bert Rebooted
Stepping out
For a title that's over thirty years old, Q*bert did its entertaining duties remarkably well – indeed it represents pretty much the beginning of platform / puzzle videogaming. Q*bert has no scrolling, only a few enemy characters, and minimal variety between levels, yet it managed to be one of the most addictive, fun titles of the era. The ropey but memorable sound was just one more hook to raise a smile and keep players talking and hyping up the game.
Like all the best titles of that classic 1980s era, hardware constraints forced designers to get inventive over what could realistically be represented on screen. And it was precisely because of limited hardware power that game designers had to create novel, entertaining concepts to attract the arcade crowd.
So Q*bert, take a bow you @!#?@!ing weirdo – you most certainly earned your place in the Golden Age of videogaming. ®
Gonzo Games Q*bert Rebooted is available on Steam and versions for iOS and Android are in development.
Released 1982
Developer Gottlieb/Parker Brothers
Publisher Gottlieb/Parker Brothers
Platforms Arcade, Atari 2600 / 5200, Atari 8-bit, Blackberry, Colecovision, Commodore 64, DOS, Game Boy, Intellivision, MSX, NES, Odyssey 2, SG-1000, TI-99/4A, VIC-20