This article is more than 1 year old
Grab a SLIM MODEL for Xmas cheer: Sony Xperia Z3 Tablet Compact
Sony's new small slab pulls Nexus 9's hair and steals its lunch money
Review With small tablets getting bigger it came as quite a surprise to me when one of the main Android tablet wallah's newest devices turned out to also be its smallest. Prior to the launch of the 8-inch Z3 Tablet Compact (sic) Sony's smallest fondleslab packed a 9.4-inch screen.
Yes, I know that ignores the clamshell Tablet P but that had two screens rather than one and was just too weird to live. Or sell.
This means that the new small Sony tablet goes head-to-head with the equally new, if a wee bit larger, Nexus 9 tablet. Fight!
The first thing to note is how light the new Z3 Tablet is. It weighs 270g. Compare that to the 331g iPad mini 3, the 294g Galaxy Tab S 8.4 or the 425g Nexus 9. If you want a tablet to hold one-handed as an ebook reader you can stop reading right now and go out and buy the Compact, it's got this part of the competition sewn up.
It's small, too. If Sony had made it any smaller than 213.4 x 123.6 x 6.4mm they'd have had to leave out the battery, or the screen, or something else pretty vital.
Physically, the Z3 Tablet follows the same Omni-balance design path as the new Xperia Z3 and Z3 Compact smartphones. It makes for a very smart device. The aluminium power button and volume rocker are perfectly positioned on the right while the 3.5mm audio jack, which sticks out of the top on the same side, is equally well situated.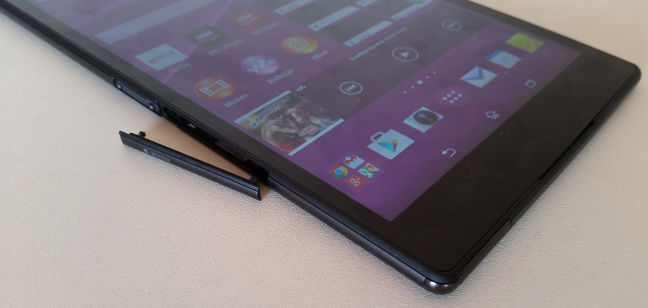 Waterproof doors: Pretty vital - and very much still present
There's a couple of doors built into the bottom and left edges to cover the micro USB and memory card / SIM card slot respectively while the sides and back are covered with a rough-finish effect that makes it a very easy gadget to keep a grip on. Stainless-steel corner reinforcements should prevent the thing from disassembling should it hit the floor at speed.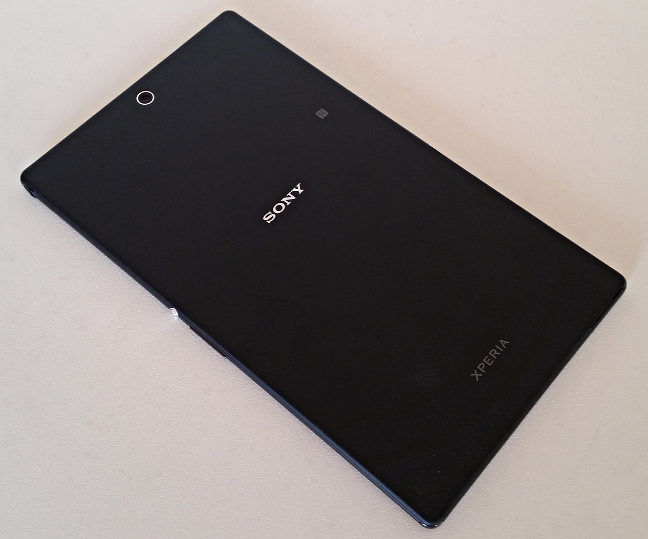 Behind: The rubberised grip helps keep the phone from gravity-induced disassembly
Should you drop it in the sand while sunbathing on the beach or down the khazi while taking a dump, those doors have an important role to play. You see, the Z3 Tablet comes with IP65/IP68 rated resistance to dust and water ingress as do the Z3 smartphones.
Waterproofing of any sort usually has a negative impact on loudspeaker performance but the front-facing speakers which sit unobtrusively in the upper and lower edges of the bezel do a very fine job. The produce the best sound that I've heard from a Sony tablet, in fact.