Windows Phone bumping along the bottom
Microsoft's stats for developers advise them to aim low … in Russian or Spanish
Microsoft has revealed a new batch of data about Windows Phone's fortunes, and it seems Redmond's mobile efforts are doing best at the low end of the market.
The good news is that Windows Phone 8.1 is now accounting for 65 per cent of Windows Phone app downloads, with Windows Phone 7 at under five per cent.
The most popular Windows Phone device is the low-end Lumia 520, which accounts for more than a quarter of all app downloads. Devices with less than 256MB of RAM dominate downloads with 71 per cent of the total, suggesting Windows Phone's most active users are using cheaper handsets.
That's not necessarily a bad thing because Microsoft, along with all other mobe-makers, is chasing "the next billion" folks to come online. Those people will likely hit the internet with a smartphone rather than PC, so wining business in that segment is seen as a good thing for a platform's long-term future.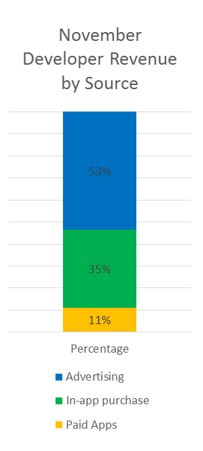 Microsoft thinks its ducks are in a row in its pursuit of those billion, as it last week announced carrier billing for apps and in-app purchases in China and Brazil, to bring the total number of nations where it can do so to 46. That's an impressive total because citizens of both nations do not enjoy the same access to credit cards as folks in more-developed nations. A single bill for carriage and apps, issued by a carrier, is therefore seen as more likely to get people in developing nations buying apps.
Redmond reckons it covers 46 per cent of the world's mobile subscribers with carrier billing, putting it in the box seat for app-derived revenue.
But elsewhere in the data dump Microsoft reveals apps aren't the main game because, as the graph below shows, developers are making more from embedding ads in Windows Phone apps than they are from either the apps themselves or from in-app purchases.
Microsoft's recommendation for developers is to make sure their wares run on low-memory devices and are translated into lots of languages. Today, about a quarter of sales are for English apps, but adding Spanish, Mandarin, Brazilian Portuguese and Russian gives developers access to a little more than another 25 per cent more of the world's mobile population. But Microsoft thinks there's another 25 or so per cent of customers to be had in a group of languages dubbed "other" that aren't any of those mentioned above, French, Italian, German, Hindi or Cantonese. ®