Product Roundup It's fairly well accepted that events and things from our past help to make us the twisted, misanthropic people we are today. Or perhaps that's just Team Register. It being the season of festive excess, we wondered if there were perhaps some geeky gifts that, as a kid, helped you explore science, tech, and similar areas, and turned you into the dashing, sophisticated reader of IT news that you are today.
We've taken a rummage through the attic of yesteryear's discarded gifts, and come up with some of the cool things that helped kickstart our interest in science and technology. Some of them, you'll be delighted to know, are still in the shops too. Were you ever lucky enough to receive one of these? Or was there something else that whetted your appetite?
Polaroid Swinger

Just in time for the summer of love, Polaroid's Swinger landed in 1965 , and helped bring instant photography to the masses. With a US price tag of just $19.95, you no longer had to be a Duchess to afford a Polaroid, but a trust fund might be handy if you got through a lot of film.
With a simple meter that said "Yes" when the exposure was set correctly, the Swinger brought Polaroid's 'shoot and peel' instant pictures to a much wider market. With no need to worry about what you were taking pictures of, or wait until the whole film was processed, the Swinger was perfect for the now generation. Sadly, film for it isn't made any more, but if you have a later Polaroid, The Impossible Project probably does make film that will fit it.
Science Fair Electronics kit

Arriving in the UK in the early 70s, at one time Tandy was found in over 250 towns across the UK. With its own-branded kit, it is perhaps best remembered amongst Reg readers for the TRS-80 series of computers. That wasn't all it did, however.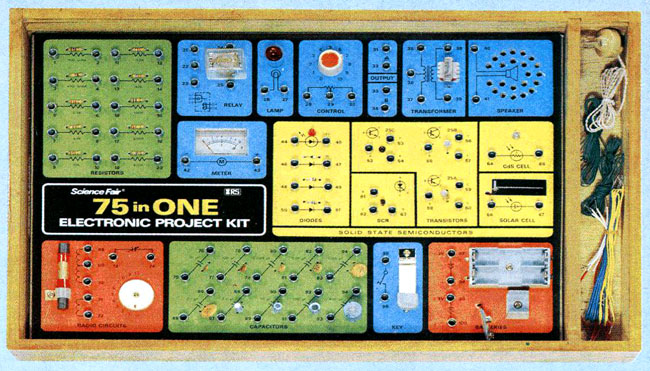 Science Fair kits, like this one, gave many the chance to play with circuits, without having to go anywhere near a Vero board or a soldering iron. With each component having its connections made to a spring, building a project was a matter of following instructions by linking wires between a different combination of springs. There were several sizes of kit, depending on how much you wanted to spend, and how adventurous you were.