This article is more than 1 year old
LG Flow punches Sonos right in its portable battery speaker hole
Also: Bonky play tech for seamless cans handoff
Aiming to compete more strongly with Sonos, LG Electronics is updating its streaming Wi-Fi loudspeaker/music-player product line with something that Sonos users have (so far fruitlessly) requested; a portable, battery-powered job.
Sonos speakers all need tethering to a power outlet, restricting where they can be placed. Unless you have a long cable, for example you can't take them outside to a barbecue.
Just like the Sonos system, LG's current Music Flow Wi-Fi Series speakers can play the same music in different rooms in a house or different music in each room. The range looks like this:
H3 30W entry-level product
H5 40W mid-range speaker
H7 70W speaker
HS6 soundbar with 4:1 Ch 320W surround sound and active wireless subwoofer
R1 wireless bridge
Music Flow player app for Bluetooth-connected smartphones, tablets and PCs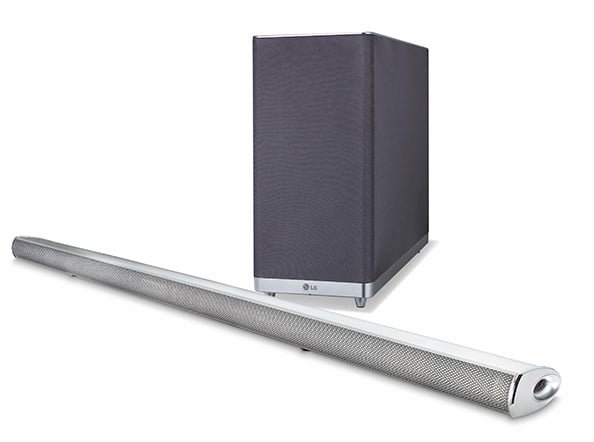 LG Music Flow HS6 soundbar and sub woofer
All these boxes are linked by a mesh network with dual band Wi-Fi technology (2.4/5GHz); the boxes are connected to each other as well as to a wireless router. LG says there is less risk of signal drop-off with this scheme.
The Music Flow app can play music on the hosting device or streamed music from content sources such as Spotify, Deezer, Napster, Tunein and Amazon Cloud Player.
So far, so Sonos, but LG's Music Flow player has a natty gimmick; walk into your home with your smart device playing music through headphones and put the phone near a speaker (within 12 inches) or tap it; an NFC connection will get the Music Flow speakers playing the same music you hear in your cans. Then, if you receive a call on the phone when it's playing music through the speakers the music continues uninterrupted.
January's CES in Las Vegas will feature four products from the range, including three new ones:
H4 portable
HS7 soundbar
HS9 soundbar optimised for deep acoustics
BP550 Streaming 3D Blu-ray Player
The BP550 Blu-ray Player can stream sound from any CD or USB drive to Music Flow speakers.
As well as the HS4 speaker being carted about, two of them can be used as rear speakers by the soundbars in a surround sound setup.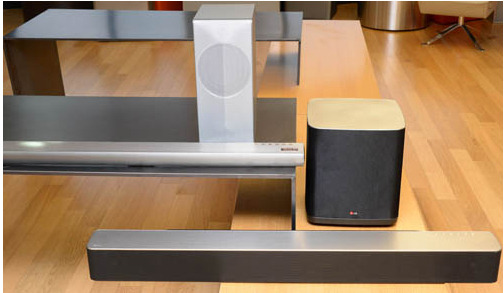 LG HS9 soundbar
There is another gimmick feature; send a text from your smart phone using the LINE free-text app, such as "Turn off music after one hour" and the speakers do just that. LG calls this its HomeChat feature. It can be used to set alarms and issue alerts about upcoming events; think home automation, Internet of Things type stuff, with smart appliances being texted to do things.
You can see the new Music Flow gear at CES 2015 (Las Vegas Convention Center, Central Hall #8204) from January 6-9. ®