Microsoft is imploring developers to keep an eye on memory budgets when coding for the Windows Phone.
Downloads from the Windows and Windows Phone Store are dominated by version 8.1 (Windows), with 92 per cent of downloads using Metro the update of the new look operating system.
Of the Windows phone downloads, 8.1 again dominates by having a market share of 65 per cent, while 7.x accounts for less than 5 per cent.
This means there is still a relatively healthy market for 8.0 as use of 6.5, and earlier versions, will be restricted to custom applications. Lots of the devices you've signed when a delivery man has handed you a parcel will be running 6.5, and there is precious little apps market for those.
Indeed, Microsoft doesn't even list them.
What Microsoft hasn't revealed is the split between Windows and Windows Phone downloads. It has said the Windows market for 8.0 is in daisy push-up mode, so anyone with PC apps that only work on 8.0 should forget it. The vast majority will, however, work on 8.1 and it's just that Microsoft is trying to hasten the migration.
What's more important is that developers are aware of the devices for which users are buying software. Sales at the store are dominated by the entry level phones with the Lumia 520 and Lumia 530 leading the way.
Indeed more apps are downloaded for the 530 than for all the high-memory devices put together. Microsoft says "with 71 per cent of downloads now coming from low-memory devices, you can more than double your potential market by optimising your app to run on such machines. If that's not possible, consider creating a version with lower memory requirements to offer alongside your primary apps".
Microsoft notes the need to do extensive testing, making sure that there is space for animations, any choosers and launchers an app may require, and that it is able to cope with a spike in memory requirements when the phone is rotated.

Microsoft gives good demographic information. India and the UK make up 12 per cent of the sales so you might want to hold off with your idea for a Cricket app. The UK does however lead the way in the market share per head of population.
As all app developers know, getting people to pay for the software is tough. Only 11 per cent of sales come from paid apps with 53 per cent from advertising and the remaining 36 per cent from Freemium add-on revenue, which is where the real money is.
"In the Windows and Windows Phone Store Trends September 2014 blog we shared that all of the top 20 highest grossing apps were using in-app purchase, along with 44 of the top 50 highest grossing apps. And, the revenue generated from in-app purchase continues to increase month over month."
Getting the pricing of in-app purchases proved key, with $1.99 and $9.99 being the sweet spots.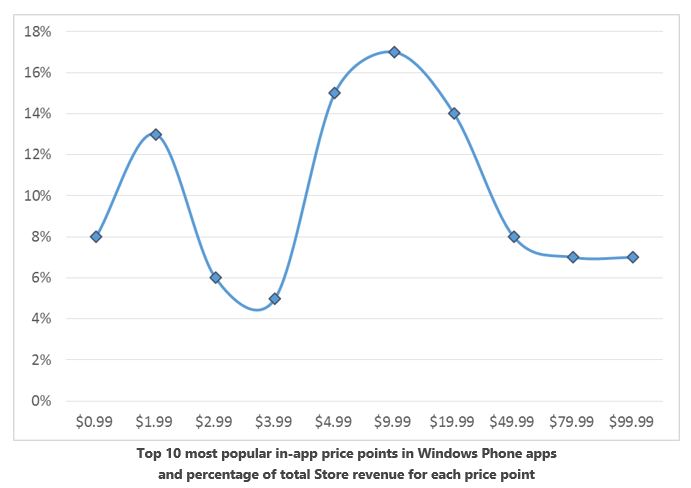 And, if you are reading this on your Lumia, you can get the Register app here.