This article is more than 1 year old
QWERTY-tastic BlackBerry Classic actually a classic
Back to the future with jolly useful tool
Accommodating Android
Other factors to consider: the battery isn't user replaceable, a decision which is hard to fathom, as the Classic has the dimensions to house a beefier replaceable battery. And it doesn't have the zip of the BlackBerry Passport (see the Reg review of the Passport here): it uses the same two-year-old, dual-core 1.5GHz Qualcomm Snapdragon processor as the Q10, reviewed here.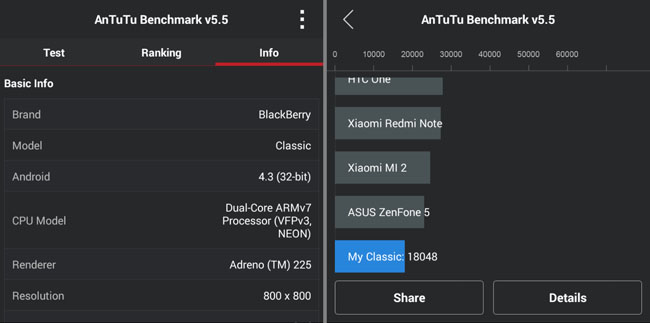 The Android benchmark app AnTuTu running on the Classic
Most of the time speed isn't a factor, as BlackBerry has optimised the 10.3.1 system to run Android apps much faster, and it uses less power than 10.2 too. But occasionally I found the messaging hub looking completely empty and had to wait 3-4 seconds for the messages to show - this with over 4GB email.
While Android apps run fast and seamlessly on the Passport, but a little more sluggishly on the Classic. But if anything slows you down on the Classic, it's going to be BlackBerry's own animations, which I wish could be pared back or (in the case of reading messages sequentially) removed altogether.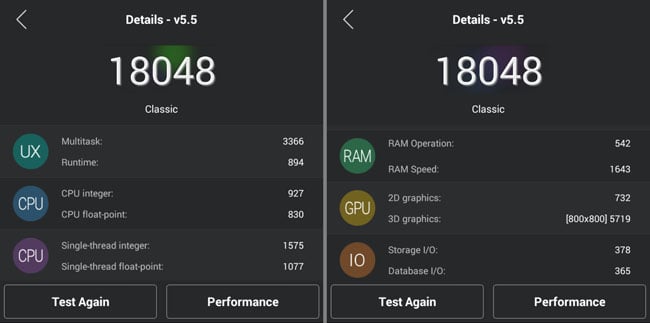 AnTuTu benchmark score isn't a high achiever, but it does the job
However, it's full of nice surprises if you're an old BlackBerry user.
The keyboard is the nicest BlackBerry has ever made. It's quite excellent at calls. Shortcuts have been restored, so you can call a custom contact or launch an app from the home screen. That nice satisfying blue bar appears when you thumb up to the top of the display - from there, you can pull down and activate the Settings shortcuts.
BlackBerry uses the same old trick as before to resolve ambiguity - if it detects that you're swiping over the trackpad quickly, it shifts the focus to the controls, away from the document itself. Very occasionally, you need to reach the bottom row of the screen to do something, such as filter the Hub view by category (for example, just the SMS messages).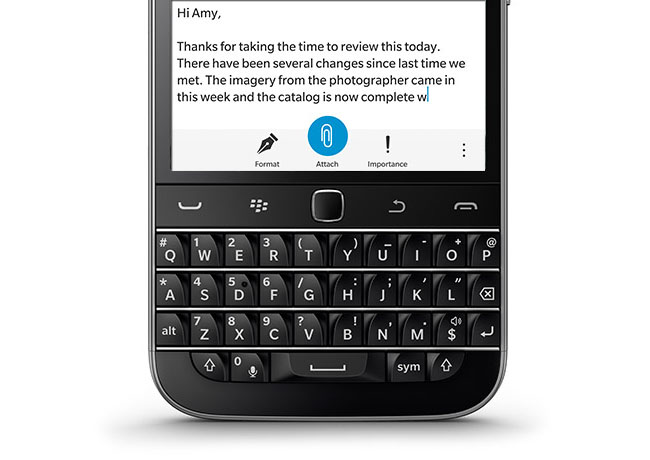 The shock of the old new...
A huge amount of work has gone into making the Classic more deterministic. And to my surprise, the Trackpad works pretty well in many Android apps I tried - you can ignore the dire warning it gives you that you might have to touch the touchscreen after installing an Android app.
In fact, the dedicated Back key works more logically in Android apps than it does (sometimes) in the native apps. Hit Back in the excellent web browser, and you get the multitasking menu - which is a little counter intuitive.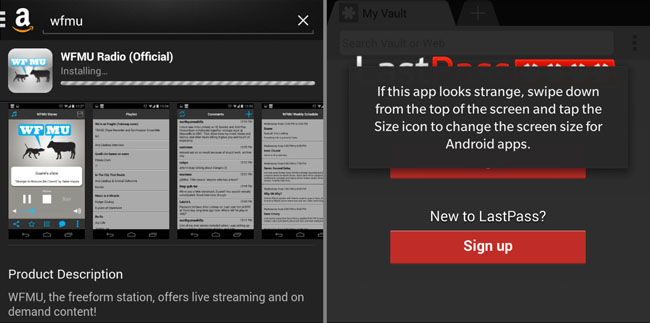 Android app installation and the swipe warning
Android performance in 10.3.1 is excellent, and integrates well with the system. It's good enough for me to opt for the Android version of Evernote over the "native" version, so I can save clippings from the "Share" menu in BB10 apps, and choose which notebooks to sync. (The "native" version doesn't support either).