Apple's 16GB iPhones are a big fat lie, claims iOS 8 storage hog lawsuit
Size DOES matter, two fans gripe to court
---
Apple is being sued by fans upset about how much storage space iOS takes up on their iPhones, iPads and iPods.
A class-action lawsuit (PDF), filed in California by Paul Orshan and Christopher Endara, alleged the OS uses so much flash memory that the advertised device capacity is misleading.
The sueball was lobbed at Cupertino on behalf of owners of 8GB and 16GB iThings. It claims Apple does not do enough to warn people that their new iThing may not hold as much music, apps and video as expected.
"[Apple] fails to disclose to consumers that as much as 23.1 per cent of the advertised storage capacity of the devices will be consumed by iOS 8 and unavailable when consumers purchase devices that have iOS 8 installed," allege the plaintiffs, who both live in Miami, Florida.
"Reasonable consumers do not expect this marked discrepancy between the advertised level of capacity and the available capacity of the devices, as the operating system and other storage space unavailable to consumers occupies an extraordinary percentage of their devices' limited storage capacity."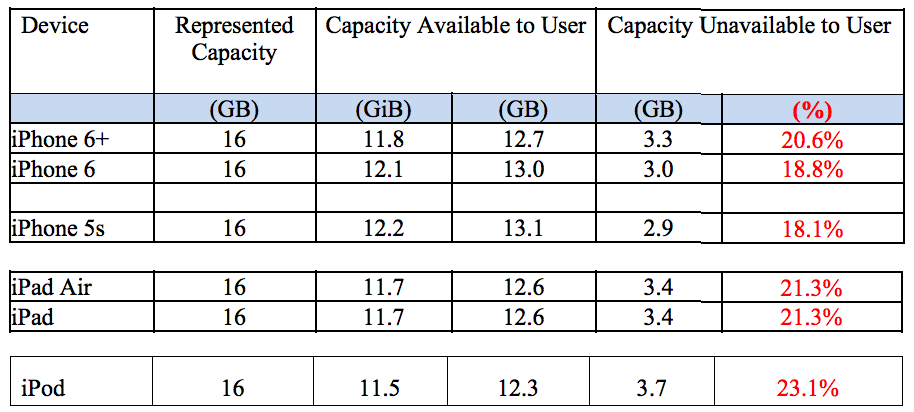 Spaced out ... how much iOS takes up on your iThing, according to the filed lawsuit (click to enlarge)
Orshan bought a 16GB iPhone 5S in February last year and upgraded to iOS 8 in October, and Endara picked up a 16GB iPhone in December with the OS already installed.
Unhappy with the amount of space taken up by the operating system, they are suing Apple for violating California's truth-in-advertising laws, with hopes of claiming a $5m-plus payout for Americans with an iPhone, iPad or iPad of 8GB or 16GB capacities, who were able to upgrade to iOS 8 or bought such a device with the software installed.
Oddly, the lawsuit claims Apple thinks it can get away with the discrepancy in storage capacities by offering space in its iCloud service – but notes "users of its devices [cannot] access cloud storage from other vendors," which isn't entirely true: ask Box, Google Drive et al.
The suit comes in the wake of a complaint filed against Apple over the company's handling of music files on iOS devices. That suit, which included testimony from late Apple cofounder Steve Jobs, was dismissed by a US jury. ®