This article is more than 1 year old
Intel touts tardy Broadwell Core CPUs for laptops, PCs
Expect first devices on store shelves this month
CES 2015 Intel kicked off this year's CES conference in Las Vegas by taking wraps off the much-delayed fifth generation of its Core line of processors, along with the newest generation of its Atom chips for tablets.
The new Core line, codenamed "Broadwell-U," brings Chipzilla's 14-nanometer process technology to mainstream desktops, laptops, and all-in-ones.
Think of it as big brother to the Core M, aka "Broadwell-Y," the low-powered version of Intel's 14nm tech for ultra-thin tablets and two-in-ones that launched in late 2014.
The Broadwell-U line will come in the familiar Core i3, i5, and i7 designations, including ten 15-watt parts with onboard Intel HD Graphics and four 28W parts with the higher-end Intel Iris Graphics. The chips announced at CES are all dual-core models, with each core able to run two separate processing threads.
The move to 14nm means Broadwell chips are both smaller and more efficient than the previous-generation "Haswell" processors. A Broadwell Core i7 sits on a die that's 37 per cent smaller than that of the corresponding Haswell chip, while packing in 35 per cent more transistors.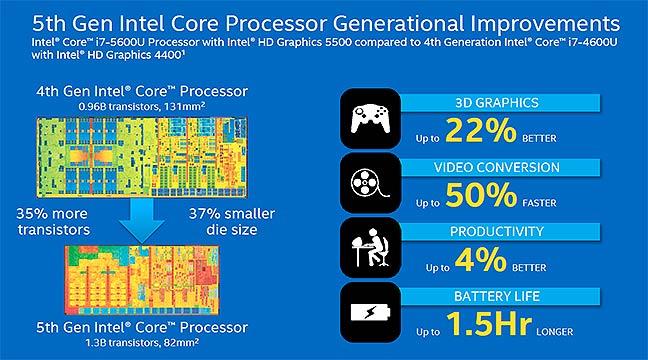 Intel's 5th generation "Broadwell" Core chips outpace the earlier "Haswell" (Source: Intel)
Intel is particularly proud of the graphics performance upgrades of the 14nm chips. Broadwell offers up to a 22 per cent improvement in 3D graphics performance, the company said, and video conversion runs 50 per cent faster.
Performance of basics productivity applications, however – such as Excel and Word – is only increased by 4 per cent over the equivalent Haswell processors, a fairly lackluster showing.
On the power-consumption side, Intel claims a system with a Broadwell chip can run up to 90 minutes longer on battery than one powered by the respective Haswell chip.
But Intel also touted the new, ancillary features of the Broadwell line, which it says are designed to deliver "more natural PC interactions" and will "drive new experiences." Like the Core M, the new Broadwell chips include support for Intel RealSense technology, which Intel says will allow password-free logins via 3D face recognition. Also included is support for Intel Wireless Display (WiDi) and Wireless Gigabit Docking.