This article is more than 1 year old
Seagate makes CES splash with $99 drive, 'personal' cloud offerings
Two 500GB external drives, new brand... and, er, new cloud
CES 2015 Seagate's arriving at CES 2015 with all guns blazing, with a new "living" logo and personal cloud, wireless, and anorexic hard drives to store the data of tomorrow.
Thin, portable, $99...
The first of the new products is a 7mm thick, 500GB portable external drive called the Seagate Seven - as in 7mm.
It has a bare drive look with its steel enclosure punched into shape via a deep draw manufacturing process.
Seagate claims its low profile motor technologies include "extreme Gyro handling capabilities with tablets and thin computing in mind".
It hooks up to host tablets and notebooks with a USB 3.0 cable, braided to look special, delivering data access and power.
Seagate does not tell us the number of platters or the spin speed of the drive inside this retro-style enclosure. We think it's a single platter 500GB Ultra Mobile HDD spinning at 5400rpm, with a 6Gbit/s SATA interface, which was announced back in September 2013.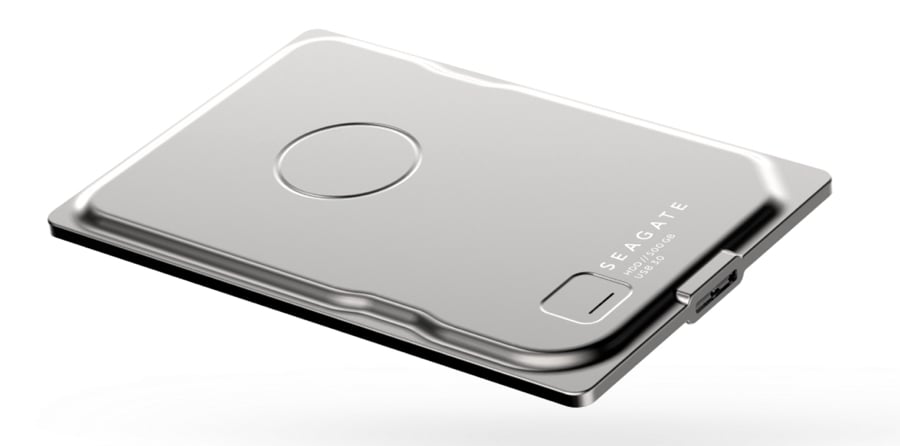 The 7mm thick, 500GB portable external drive known as the Seagate Seven
Wireless portable
Another 500GB drive, the Wireless portable, uses Wi-Fi for streaming and offloading of media from mobile devices. It is accessed via a Seagate media app for Apple iOS, Android, Kindle Fire HD, and Windows 8 and Windows RT devices. You can also use a device's native browser - Safari for Apple and Webkit for Android.
The drive also has a USB 2.0 (not 3.0) cabled host interface, and operates in either Wi-Fi or USB mode. Wi-Fi connectivity can be password-protected; USB connectivity can not.
Eschewing the bare metal look of the Seven, the Wireless drive comes in lush colours, namely lime green, cool blue, slate grey, fire-engine red and white.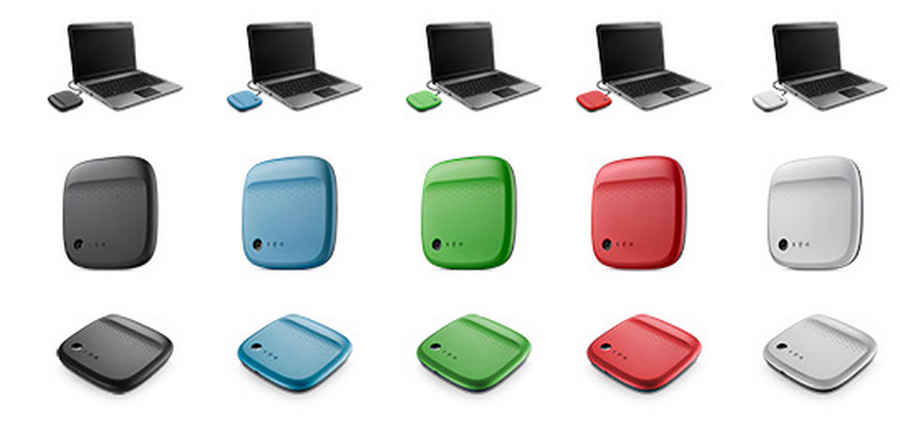 Seagate Wireless drive and its coat of many colours
It is a rechargeable battery-powered drive that broadcasts its own Wi-Fi signal. You search for "Seagate Wireless" from the mobile device wanting to use the drive, so you don't have to be hooked up to any existing Wi-Fi network.
It can be charged from a wall socket or via the USB cable to USB 2.0 devices (slowly, or not at all if the drive is in use) or USB 3.0 devices (faster).
The Wireless drive can stream data to three target devices simultaneously, including TVs, using Apple Airplay, Google Chromecast, or an app designed for Samsung and LG Smart TVs and Roku players. Streaming is via the Media app or via or an internet browser. This means it could stream to a Linux target device with, Seagate says "appropriate browser support, media player capability, and wireless connectivity".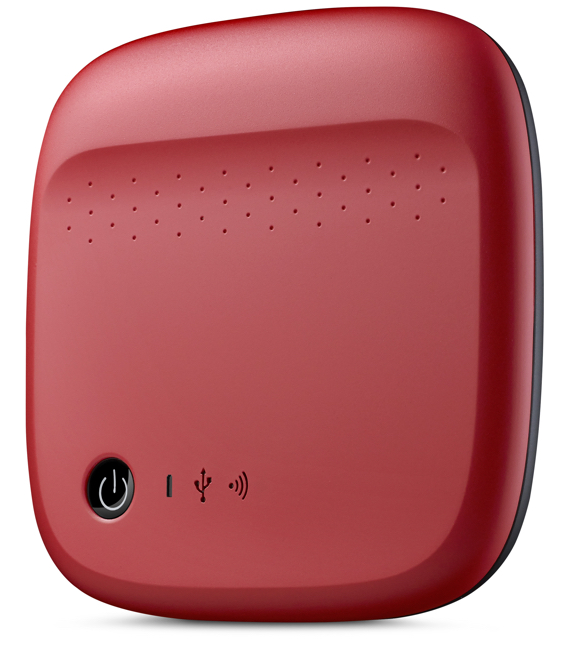 A close-up look at the red Wireless drive
It is inferior in functionality to Seagate's Wireless Plus drive which comes in 500GB, 1TB and 2TB capacities, has DLNA support, and functions as a Wi-Fi hub for up to seven smartphones, tablets and notebooks/desktops.
The datasheet does not tell you much all, so better to check out the FAQ.
We might assume it has an Ultra Mobile HDD inside the colourful casing; once again Seagate doesn't say.