This article is more than 1 year old
Mirror, mirror: Seagate shows off 1TB data shiny at HDD beauty contest
Glorified desk toys fight for floorspace at tech show
CES 2015 For those of us who like to sport Rolex watches and Montblanc pens Seagate's LaCie unit has a swanky, sexy new desktop drive - the Mirror portable.
Inside is a bog-standard 1TB HDD with a USB 3.0 connection. So what right? Yada yada yada.
However, outside is an enclosure encased in Corning Gorilla glass resting on a polished Makassar ebony wood base.
This features a groove ready to take your expensive cursive writing instrument. No Bics here please, show some class. Just to be clear though, this is an exec desk toy designed to make a statement rather than be a serious piece of data storage.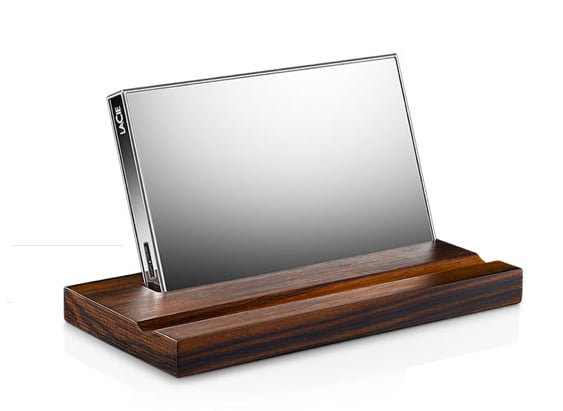 LaCie Mirror - more desktop decoration than a disk drive. Designer Pauline Deltour opines that "the intense ebony colour contrasts sublimely with the LaCie Mirror's silver facets"
LaCie, which often uses designers such as Neil Poulton (see below) to make its external drives stand out, says it is a signature piece designed by Pauline Deltour, with the announcement waxing lyrical like a luxury goods magazine blathering on about costly posh tat.
The Mirror is apparently "a show-piece to convey how essential data is to defining our modern life ... Our data is truly a reflection of who we are. The human digital footprint is a reflection of our individuality and LaCie Mirror is symbolic of this".
The glass is scratch-resistant to keep it looking good. The shiny box comes with LaCie Backup Assistant software and data can be protected with AES-256-bit encryption and password access. Although it is a called a Mirror drive there is no RAID mirroring.
But, at the other end of the scale when it comes to desktop drive accessory design is LaCie's Rugged RAID drive, insulated inside its vivid orange rubbery case, looking like some kind of inflatable raft sailing across a construction site's office desk.
It's been updated from its original 2TB capacity maximum to 4TB using two internal drives, RAID 0 and 1 levels with Thunderbolt (integrated cable) and USB 3.0 connectivity. This is no piece of luxury-look desktop flash trash but a more serious piece of kit, although it is a designer-look product featuring Neil Poulton's high-viz style.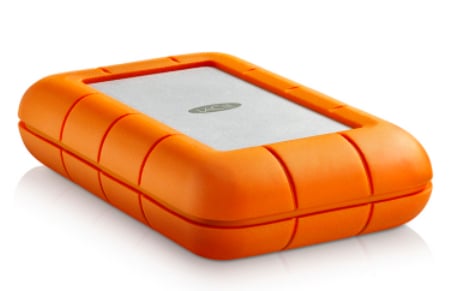 LaCie's Rugged RAID - an altogether more serious piece of kit
LaCie says it is "resistant to shock, dust and water. It is tested to withstand drops of up to 1.5 meters (5 feet) and 1 ton of pressure. With its cap in place, the LaCie Rugged is IP 54-rated for superior resistance to dust and water splashing - even during operation." It's compatible with Apple's Time Machine and Windows Backup.
Like the Mirror it has AES 256-bit encryption for data and password-protection for basic access.
The Rugged RAID has an MSRP of $449.99 and will be available sometime this quarter through LaCie.com and LaCie resellers.
The Mirror portable hard drive, together with a carrying pouch, will be available in late January at LaCie.com with a manufacturer's suggested retail price of $279.99 (£229.99), with wider availability later this year. It has a two-year limited warranty.
You can buy a basic 1TB Seagate external drive for $64.99 on Amazon. ®