This article is more than 1 year old
Samsung revs flashy 1TB road warrior (then crawls away)
Handy, easily moved about, pretty secure too
CES 2015 Samsung has used its 32-layer, 40nm V-NAND flash dies to produce its Portable SSD T1, a USB 3.0-connected drive for fast access to 250GB, 500GB or 1TB of flash capacity.
As you would expect with a USB interface, the performance is dreadfully slow compared with an internal drive using SATA (or SAS) interfaces.
Random read/write IOPS are 8,000/21,000 - the V-NAND 850 EVO internal drive does up to 98,000/90,000 random read.write IOPS.
Still, the comparison to make is with a portable external disk drive for which this is a potential replacement. It can transfer data at up to 450MB/sec and Samsung claims its write speed is up to 100 times faster than a disk drive.
However, the real-life transfer speeds are, again, not that impressive for a flash drive.
"Depending on the file size, the Portable SSD T1 has a data transfer speed four times faster than an external HDD," said Samsung. "It takes only eight seconds to transfer a 3GB movie file and 27 seconds for a 10GB movie file compared with an external HDD which takes 26 seconds and 85 seconds, respectively."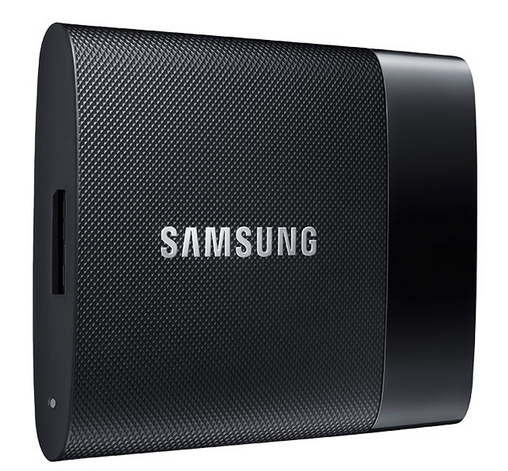 Samsung Portable SSD T1 with black chrome metal coating and laser patterning
It makes you wish for a Thunderbolt interface; LaCie's Little Big Disk Thunderbolt 2 dual SSD 1TB has a 1.2GB/sec average write speed for 4K video editing. This external drive uses two Samsung XP941 512GB PCIe-based M.2 2280 SSDs by the way.
Obviously such a fast design costs money and power.
The T1 has been optimised for convenience, portability and affordability for a biz traveller needing faster-than-average access to securely-stored data on their external drive. On these measure it scores highly.
For example, the T1 should be way more robust than an external disk drive, with Samsung claiming it is "shock resistant up to 1500G/0.5ms and features Dynamic Thermal Guard, which will activate in extreme temperature conditions to protect the drive and any stored data".
The contents can be secured behind AES-256-bit hardware encryption and there is password-protected access on top of that.
It is convenient to carry, being smaller than a business card, and weighing about an ounce. Both Mac and Windows users can plug it in with no reformatting needed.
The prices are perhaps erring on the high side of affordability; the 250GB T1 should cost around $180, the 500GB product $300, and a 1TB variant $600 with the products being available later this month.®