This article is more than 1 year old
Cloud Backup stew in Docker container? Check – Asigra
Claims 6x app density increase
Quick as a flash, Asigra has added Docker container support to its Cloud Backup product.
Traditional virtualised servers have applications running in a virtual machine (VM or virtual server) with a guest operating system. Multiple VMs have multiple copies of guest VMs, which is wasteful of server memory and processor resources.
Docker has the applications running in such a way as to share guest OS', so reducing the amount of memory and CPU resource they need and making the servers able to run more apps and be more efficient.
Asigra says some tests have shown a sixfold increase in application densities with Docker containers versus legacy VMs. All the apps must tun under the same OS, although different Linux versions could be supported; this seems a small price to pay. Most Linux versions now include a Docker engine by default and Docker tech use looks likely to grow strongly this year and next.
That's the background to Asigra's addition of Docker support to Cloud Backup. It says it's "the first and only enterprise data protection platform to protect Docker containers, including data containers and externally mounted data sources."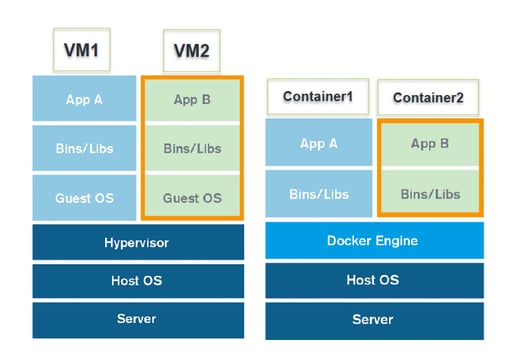 Docker virtualisation (right) vs VMware virtualisation (left)
Asigra EVP Eran Farajun told us there's not much data in Docker containers presently: "Docker best practise is to mount a container to external storage. We think containers will have larger amounts of data stored in them in the future."
Asigra's move is surely the start of a concerted rush by suppliers to add Docker support to all enterprise backup products.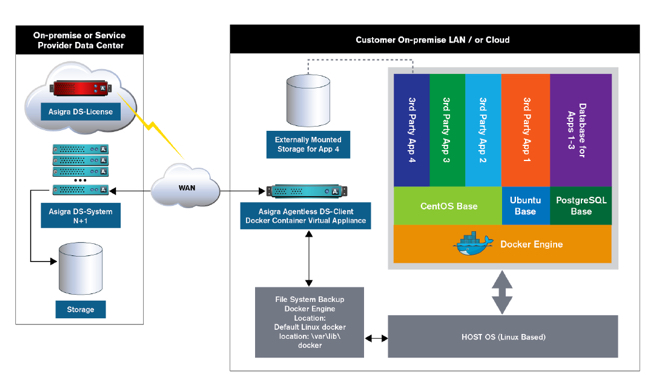 How Asigra protects Docker containers
Version 13 of Asigra's Cloud Backup will have Docker container support and be available in February. The Dockerised DS-Client will be available for download from a public repository on the Docker Hub then.
Docker container backup and recovery is included at no charge for current partners and end-users of Asigra Cloud Backup. New customer pricing starts at 15-20 cents/GB/month, depending on the service provider service level agreement (SLA). ®