This article is more than 1 year old
3D printer bods offer New Year's resolution (geddit?)
Claims it's smaller, faster, cheaper... all thanks to software
Formlabs, the company that makes the Form 1+ 3D printer, has announced a software upgrade that improves printing speed and reduces the size of supports to increase speed, reduce the amount of resin used and thus lower 3D printing costs.
New Year, New Resolution. from Formlabs on Vimeo.
The speed comes from a new Draft Mode, a new print resolution, which allows the Form 1+ to print up to twice as fast. Smart Supports, a dynamic print-preparation algorithm, reduces print-time and overall material usage by up to 60 per cent, the firm claims.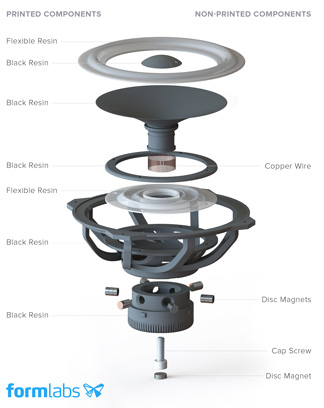 This kind of answers the eternal question: "Yes, it's a 3D printer but what can you do with it?"
For engineers and designers who need results fast, Draft Mode allows the Form 1+ to print thicker, 200-micron layers, without sacrificing surface quality. The makers claim that the precise, high-speed optical mechanics at the heart of the Form 1+ mean that head-to-head, it dramatically outperforms leading FDM machines at the same resolution. The feature is available in the latest version of PreForm and is available for all Form 1+ 3D Printers printing with Clear Resin.
The firm's Smart Supports use a sophisticated algorithm to generate more robust and efficient print supports. "We looked a lot at trussed bridges and trees to understand more elegant and efficient ways to offer greater support with fewer contact points. There's a lot of math and engineering in those little structures," said Andrey Mishchenko, Formlabs' software engineer.
The new supports result in reduced print times and potentially the use of less than half the amount of material, he added.
The company has demonstrated the new flexible resin by using it to print a loudspeaker. Ironically, they have not printed the case for the speaker – they seem to have used Perspex for that – but the speaker itself. Prototyped in Draft Mode and utilising the new Smart Supports, the speaker, except for the wires and magnets, is entirely 3D-printed. ®