This article is more than 1 year old
G-Tech goes full lumberjack with drive for hard storage heroes
HGST RaW spinner rival to Rugged RAID
CES 2015 HGST's G-Technology external drive biz has gone all rugged and takes on Seagate's LaCie with a bright blue bumper case for tough-look G-DRIVE.
The G-DRIVE ev RaW - get that fancy capitalisation - has a removable bright blue wrap-around case giving this 500GB/1TB external drive, spinning at 7,200rpm, the ability to withstand a 1.5m drop.
That's just like LaCie's orange-coloured Rugged RAID - but that drive stores much more data, up to 4TB.
The G-DRIVE has a USB 3.0 connection and a 3-year warranty, longer than LaCie's.
G-Technology also has the G-DRIVE ev ATC with Thunderbolt or USB 3.0 product, which has a rugged case too – a stronger one. It can withstand a 2m drop and is watertight – the drive even floats – and it's also dust-proof.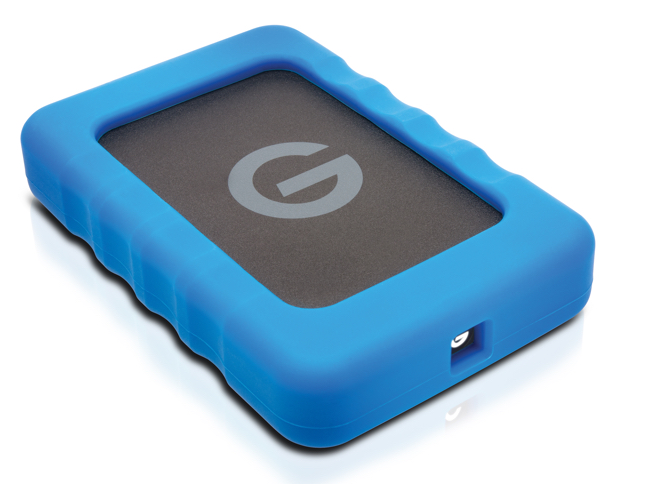 G-DRIVE ev RaW
There is a three-year warranty and the drive inside the casing is a 1TB, 7,200rpm unit. The product will set storage He-Mans and She-Ras back by $229.95 with Thunderbolt or £179.95 for USB 3.0 guise.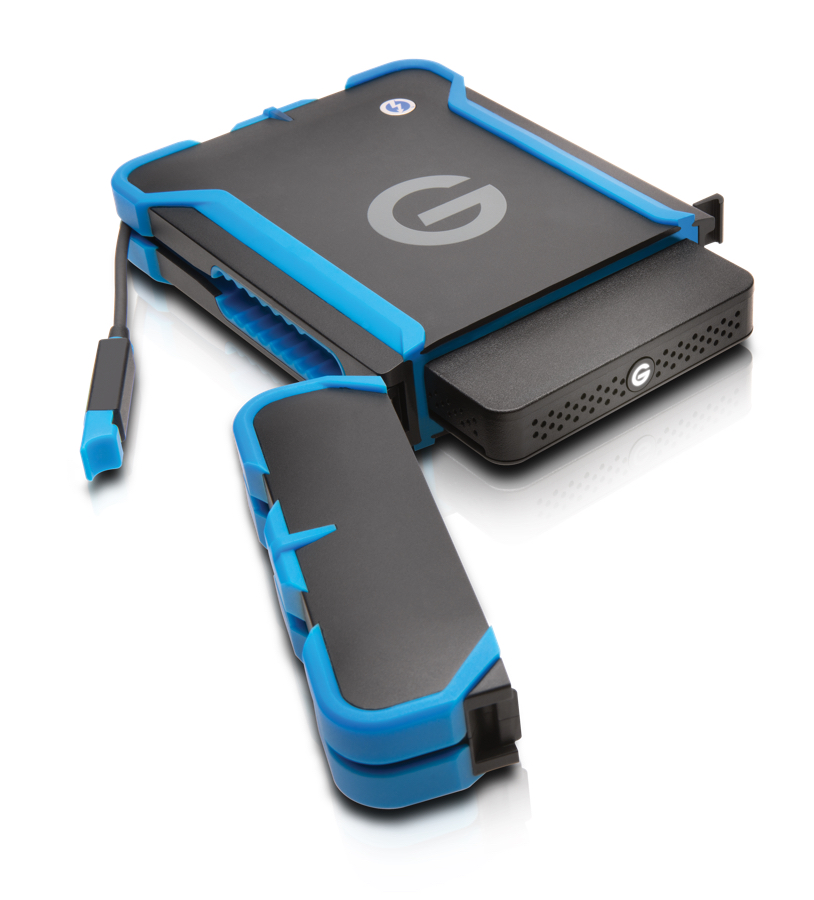 G-DRIVE ev ATC with integrated cable, showing hinged cap to its case and an external drive inside.
Contrast that $179.95 with the $600 cost of Samsung's 1TB portable flash drive, which isn't waterproof but is shock resistant up to 1,500G/0.5ms. Maybe if the flash drive cost $300 it would be more tempting to macho users needing both drop- and water resistance.
The G-DRIVE ev RaW costs $129.95 for 1TB drive and $99,95 for 500GB. These will be available this month as will the the G-DRIVE ev ATC with Thunderbolt. That drive's USB version will ship in February. See both blue G-DRIVEE at CES in Las Vegas – it runs until 9 January. ®