This article is more than 1 year old
Watch out Seagate: Here comes WD with a hybrid flash/disk drive launch
'Moving toward simplification of the PC subsystem'
WD is demonstrating a faster-than-Seagate 4TB hybrid flash/disk drive at Storage Visions 2015.
It is built with 3.5-inch disk drive, an up to 128GB SSD, and the SATA Express PCIe interface with the flash and disk components presented as a single volume.
The demos include commercially available ASRock and Gigabyte motherboards with cabled SATA Express PCIe interconnect flexibility and single-volume caching and RAID configuration options.
The SATA Express PCIe scheme has multiple PCIe lanes and two SATA 3.0 (6Gbit/s) ports active through a single host SATA Express connector. WD demonstrated hard disk drives connected using SATA Express in June last year, with partners ASUS and Gigabyte.
Hybrid flash/disk drives offer disk levels of capacity and near-SSD performance at lower prices.
It was sampling WD Black 2.5-inch hybrid drives in January 2013 with 500GB and 1TB disk drives and up to 24GB of flash. WD launched a 1TB Black drive with 120GB of flash in November 2013.
Seagate announced a 3.5-inch desktop SSHD in March 2013 with 1 or 2TB of capacity and 8GB of flash in the case. Its main hybrid focus has been on 2.5-inch drives, starting with Momentus XTs in 2010, and laptop SSHDs in 2013, plus its Enterprise Turbo SSHD with 600GB of disk capacity and 16GB of flash in June 2013.
Currently it is shipping 500GB-1TB Laptop and UltraMobile SSHDs plus its 1 - 4TB Desktop SSHD with up to 8GB of flash and a SATA 3.0 interface.
Toshiba also had its MQ01ABFH hybrid (320/500GB) in June 2013.
WD has been focussing on building in greater amounts of flash than Seagate.
WD said that in its "labs, WD's SATA Express 4TB drive with 64GB cache achieved a PCMark8 benchmark score of 4459, demonstrating near-SSD performance at an optimised GB-per-dollar value". Its announcement release includes a chart showing this: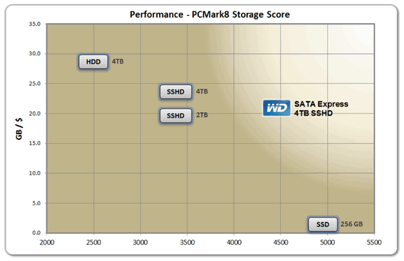 WD's flash/disk hybrid drive PCMark8 score
The chart shows the 4TB hybrid being much faster than a 4TB HDD, as well as being cheaper, and almost as fast as a 256GB SSD. It is faster than two other hybrid flash/disk drives, labelled SSHDs on the chart. Which supplier made these 2TB and 4TB products?
We suspect they were Seagate Desktop SSHD products and WD is beating them on performance by having much more than 8GB of flash available as well as using the SATA Express interface.
"We see the industry moving toward simplification of the overall PC subsystem to a single storage bus based around the PCIe protocol," said Gary Meister, WD's SVP of engineering. "In this demo, we placed a hard drive, flash NAND and SATAe technology into one package, freeing up one slot in the system." ®