Police radios will be KILLED soon – yet no one dares say 'Huawei'
Why 4G is no solution for emergency services
'Give a cop an iPhone and he'll break it in 10 minutes'
MTPAS allows different levels of priority; it's an eight bit flag so in theory there could be 256 levels of importance, but in practice only one bit is used. In the case of a major emergency MTPAS gives those with the prioritised access to the mobile network and those without get kicked off.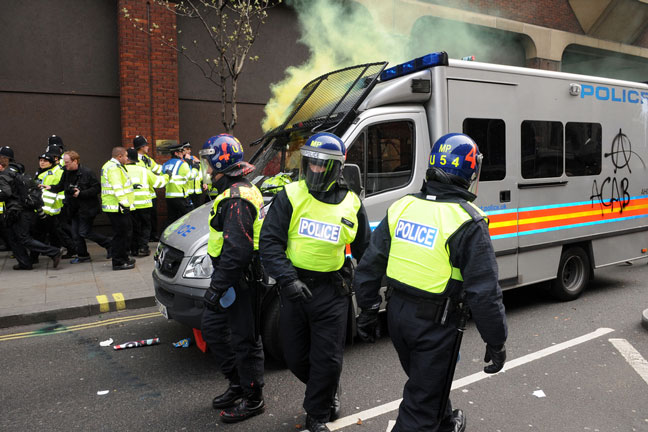 'That's the new radios taken care of, guv. Who's got the paper cups and string?' Pic: 1000 Words / Shutterstock
Neyroud points out that this has never been done in the UK. It was, however, done in New York for the September 11 2001 attacks, although only on some mobile channels, leaving the rest for ordinary users. Using it might not even be the right decision. Taking service from someone stuck under a building to give it to the emergency services smacks of trolleyism.
The mobile industry believes that with push-to-talk and MTPAS it can deliver an emergency services, service. Leaving aside the issue of coverage and assuming we lived in the world which exists in the heads of mobile operators where there was ubiquitous 4G coverage. Let's look back at the specification of the devices.
One of the important things Tetra does - and cellular does not - is device-to-device and mesh communications. For the most part Tetra is like a phone system in that it uses base stations and towers to give spectrum re-use, but in many emergency situations the towers won't survive the tsunami, earthquake, bomb or whatever. So Tetra devices can talk directly to each other. It is also possible to use a repeater, a car or truck can be brought to the scene which will relay signals. Tetra uses 2w at around 400MHz so range is rarely an issue, but not having a direct mode is and LTE cannot do it.
There is an LTE specification called PROSE which specifies repeaters and gateways – but a hugely important aspect of emergence services work is the use of groups. The LTE-Broadcast specifications could be hijacked to do groups but LTE-Broadcast won't work though a PROSE gateway.
Besides, LTE-Broadcast is designed for covering huge groups. It's been demonstrated providing video feeds for whole crowds at football matches. In the emergency services there are more likely to be ten people in a group and they need to be allocated dynamically. Fire and ambulance services often share telecoms with their local police forces: that's still a lot of people who will want high level access to the mobile phone network. People whose concerns will not include protecting the commercial interests of the mobile network. They'll switch off paying customers and then maybe apologise later.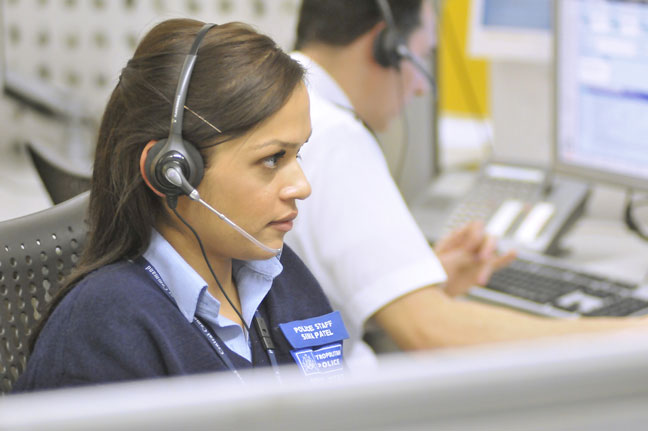 Dispatchers are vital to co-ordinating on the ground activities
There are many aspects to creating groups but one important one is the use of a dispatcher. When a team is sent out to an incident the different parts of the team, most simply fire, police and ambulance, might be allocated as different groups. A dispatcher might give a message to all three, two of the three or just one of the groups. Push-to-talk is as much about one-to-many as it is about one-to-one communications. You can't individually call everyone in an area to say "watch it, that wall is about to fall down".
A group might be dynamically allocated by the dispatcher to include everyone in a building and then they can automatically hear each other's messages without hearing about what's going elsewhere. This isn't even being discussed in the 3GPP groups.
It might be easier if the emergency services all stayed on the frequency allocated to them, but that's not an option with LTE. Tetra occupies 25KHz per channel; DMR uses 12.5KHz; while pretty much the minimum you can use for LTE is 5MHz. You just wouldn't get enough channels out of the available spectrum.
Neyroud believes the answer lies in the 700MHz "digital dividend" spectrum which is becoming available, and says that it's the approach other countries are looking at, but the UK has announced that it will be auctioned off. There has been no information on what form the auction will take, but even the flop of the 4G frequencies raised £3bn. 700MHz is much more valuable so you can see where the government's interests lie.
Given that LTE isn't going to offer the features the emergency services need for voice and that Tetra, even if it isn't switched off, can't deliver the data service that is needed – particularly for the fire brigade, which needs building plans and maps – Neyround favours a hybrid device. It needs to be custom made to do both Tetra and LTE and be robust. "Give a cop an iPhone and he'll break it in 10 minutes" Neyround told us.
There is one company working on just this. A company with great manufacturing, radio infrastructure and device expertise and which could deliver just what the emergency services want.