This article is more than 1 year old
CES: WELCOME YOUR ROBOT OVERLORDS... and, er, co-workers
Sheldon Cooper goes to Las Vegas
CES 2015 Las Vegas. The strip. A blight on the American desert until you've sunk a few margaritas, ideally by 11am, when suddenly you'll find it all makes sense. Or so your humble hack has heard.
If you've ever been to Sin City, especially during a mega-convention like CES 2015, you can perhaps forgive one tech biz for preferring to send bargain-basement robots to man its booth, sparing a human crew the pain.
Suitable Technologies showed off its Beam "telepresence" units by using a couple dozen of the rolling chat bots as its pitchmen at the bogglingly bustling convention. Each unit, remote controlled from afar by a person, is fitted with a camera and screen so attendees to natter to staff on the other end.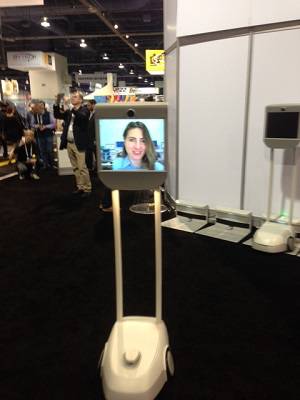 Forget booth babes, we've got booth bots!
One of the few humans amid the robo-army was marketing chief Bruno Bonnell. He told El Reg that the Beam units are designed to give remote workers a better experience when out of the office. The company uses the units to communicate between its Silicon Valley and Paris offices.
"When I use Skype now, I'm frustrated because I can't move," he said.
"We don't call each other any more; we have those conversations in a very easy and natural manner."
The company hopes to sell two configurations of the Beam bots. A smaller "Home" unit priced at US$1995 and a Pro version for $15,000 aimed at markets such as healthcare and education. Edward Snowden has used similar tech to appear on stage around the world while holed up in Moscow.
To the newcomer, being chased down and chatted up by what looks like a tablet affixed to a Segway can be unnerving at first. After a bit of time, however, we found the conversation wasn't much different than any other videoconferencing system, awkward pauses and all.
Controlling the device over the internet is done through a keyboard and video interface. Along with the view from the screen, the driver is given a view of the robot's base and a shot of how they appear on-screen.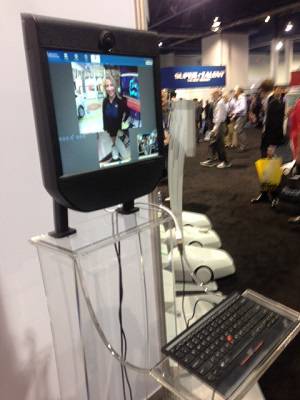 You too can be a robot overlord
Our test drive found the bots a bit awkward at first (you can use either a mouse or arrow keys to move) but after a minute or two we were able to tootle around without much issue. Running afoul of stairs or sleeping pets remains a danger.
Bonnell said prolonged use of the bots over the week has had some interesting effects both on the bot workers and their on-site attendees. Specifically, he claimed the robot users develop their own type of "body language" over time that gives distinct characteristics.
And even he is not immune to the occasional awkwardness in the nearly all-bot booth. He noted that morning briefings, in which all the Beams roll up together in a line to chat with him, can still be a bit weird. ®