This article is more than 1 year old
Samsung's SUPER-speedy SSD is a real power-sipper
512GB drive draws a TINY 2mW: Yes, that's two milliwatts
Samsung's latest small form factor PCIe flash drive shunts data at up to 2.15GB/sec, making it a right speedy little critter.
It's also much more power-efficient, using its "L1.2 low power standby mode (which allows all high-speed circuits to be turned off when a PC is on sleeping or in hibernation) as defined by PCI-SIG (the PCIe standards body)," according to the marketing blurb.
Because of this its power consumption reduced to under 2mW, a near 97 per cent decrease from the 50mW consumed using a L1 state, according to Samsung.
Samsung also says: "With a PCIe 3.0 interface, the drive achieves substantially higher energy efficiency, requiring only about 450MB/s per watt for sequential reading and 250MB/s per watt for sequential writing, which translates into a more than 50 per cent of improvement in performance per watt over that of the XP941 SSD."
As the drive is targeted at ultra-thin notebooks as well as PCs, this should help battery life.
This SM951 follows on from the existing XP941 and is faster. A table shows the relevant data:

It's about 30 per cent faster on IOPs and 50 per cent faster for sequential reading and writing. Macbook Air-class notebook users, whose machines may have slower processors than larger notebooks, will be pleased at this performance boost.
As before, it has 128GB, 256GB and 512GB capacity options.
Samsung hasn't revealed much about the NAND chips involved, merely saying it's 10nm-class MLC flash, meaning a cell geometry between 19nm and 10nm. We're thinking the performance boost could be due to a controller refresh, the XP941 using a 3-core UAX controller from Samsung, and possibly to a flash chip process refresh as well as the PCIe 3.0 interface.
Our understanding is that this is an NVMe drive as well.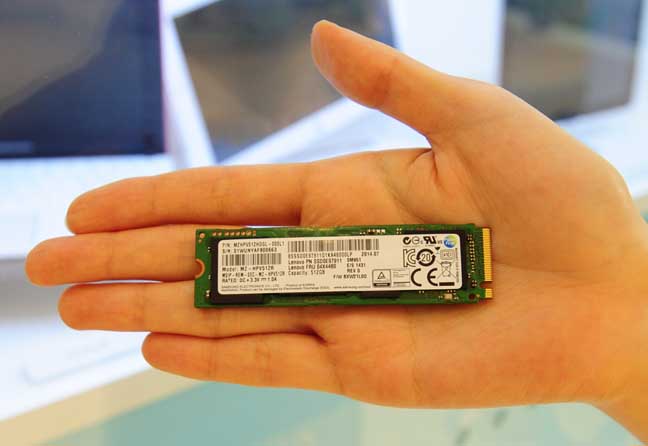 Samsung SM951
Nor do we know what its endurance is. The XP941 was rated at 73TB written (40GB/day) and had a 3-year warranty. Our assumption is that this baby is the same or better.
The SM951 is now in production and could be/should be appearing in notebook or desktop systems later this year. ®