This article is more than 1 year old
SanDisk opens its cages, sets its mutants FREE
Spins off borged NexGen amid 'not core business' spiel
SanDisk - owners of Fusion-io, who bought Nexgen and its hybrid flash/disk array business in April 2013 - has decided it doesn't want Nexgen and is spinning it off as an independent business.
Why?
Sumit Sadana, SanDisk EVP and chief strategy officer, said in a canned quote: "Hybrid systems incorporating hard-disk drives are not part of SanDisk's strategic focus. Spinning out the ioControl business allows us to focus our resources on our core business, while positioning the independent company to address the significant opportunities in the dynamic enterprise storage market."
Our understanding is that, as a flash storage component vendor of flashDIMMs, PCIe flash cards and SSDs, SanDisk doesn't want to compete with its OEM customers who produce storage arrays using such components. The NexGen ioControl product line does exactly that, by combining PCIe flash cards (for performance) with disk drive storage (for capacity).
The new company is NexGen Storage Inc, and SanDisk will continue to supply it with PCIe flash cards but has no ownership interest.
NexGen, headed up by CEO and co-founder Jon Spiers, says that, for the past 20 months, it – the oControl group in SanDisk – has "achieved impressive revenue growth, added hundreds of new customers and almost tripled the size of its research and development investment."
Becoming an independent business will accelerate its delivery of new technologies and products and enable it to boost its sales, marketing and channel programs.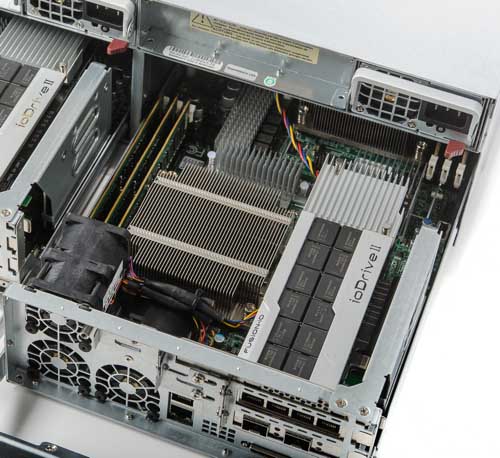 A peek inside a 2013 vintage ioControl array
Spiers' own canned quote said: "NexGen was founded to address the performance and management challenges associated with solutions that use multiple types of storage like NVDIMM, flash, hard disk drives, cloud as a tier, and others yet to be commercialised. Operating as a stand-alone company enables NexGen to retain our technology vision and best serve our customers."
Note that "NVDIMM" (non-volatile DIMMs); SanDisk supplies ULLtraDIMM systems to Lenovo, Huawei and Supermicro. Tegile is thought to be a potential customer for that technology too, possibly direct from Diablo Technologies. Competitor Nimble Storage uses flashDIMM technology it has developed using original technology from Netlist.
FlashDIMMs provide faster access to data than PCIe flash cards. It seems to us that there is a hint here that NexGen will use flashDIMM technology to speed its systems. New technologies and products will be unveiled soon by NexGen. These will deliver, we understand, six times more flash than other hybrid systems; four times greater flash capacities and triple performance improvements.
There will be a new data priority-driven caching system to provide a 25 per cent lower $/VM value. It will prioritize what data goes in flash to achieve that.
Nexgen will now be able to compete on a stronger footing with other newish hybrid array suppliers, such as Nimble Storage, Tegile and Tintri, as well as hybrid arrays from mainstream vendors and the HyperISE products from X-IO.
The terms of the spin-out were not disclosed so we don't know if Nexgen is profitable, or if it is going to use SanDisk-based funding for its business growth or whether it will pursue VC funding.
Best wishes for the New Year, Nexgen, and let's see what rabbits you can pull out of your hat. Up and at 'em, baby. ®