This article is more than 1 year old
BILLIONTH Indian mobile subscriber due in 2015
Growth is slowing, but this mobile cloud thing clearly has legs
Growth of India's mobile phone using population has stalled, but the nation looks on track to notch up its billionth subscriber during 2015.
India's Telecom Regulatory Authority (TRAI) helpfully pops out monthly counts of subscriber numbers. The most recent data, for says India had 937.06 million mobile phone subscriptions as of 30 November 2014. That's a monthly growth rate of 1.71 million, or 0.18 per cent.
That growth is actually a bit slow: October saw 0.55 per cent growth for 5.14 million new subscribers, while in September another 5.88 million subscriptions were sold for 0.64 per cent growth.
A billion subscribers is a nice number to reach, but the bigger picture is that over 90 per cent of Indian internet connections are made on mobile devices. Mobile first, cloud first marketing mantras – and chatter about "the next billion" to come online clearly need to be taken seriously when there's that many customers up for grabs! It's also worth pondering what kind of cultural gravity 900 million Indians on mobile devices might create. Google, Microsoft and their Chinese admirers are all pressing hard in India and beyond. Might hit services on the sub-continent start to attract users elsewhere?
Such questions are tough to answer. Let's instead return to the relative safety of statistics and have a look at a year's worth of data from India to examine its drive to a billion. Here's the number of mobile subscriptions in India, in millions, from January to November 2014.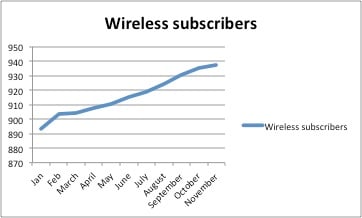 Indian wireless subscribers, in millions, Jan-Nov 2014
And here's the growth rate in subscriptions, for the same period.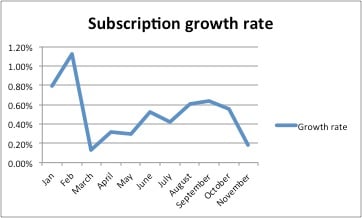 Indian Phone Subscriber Growth rates
Average growth for the period we've surveyed is 0.51 per cent which, if that rate holds and our calculations are correct, means subscriber billion should sign up in about December 2015.
Of those subscribers about 40 per cent will be in rural areas, plenty of which India's yet to wire for electricity never mind telephony.
This internet revolution thing clearly has a long way to run. ®