This article is more than 1 year old
Eight pocket-pleasing USB 3.0 hard drives
Got a new laptop? Get your back up
Product Roundup My, how time flies. It has been a couple of years since El Reg did a group test of external USB3.0 hard drives and comparing prices for 1TB drives between then and now shows how much the price of conventional hard drives has fallen in the meantime. Then, only one drive was under the £100 barrier, this time around, all the ones I'm looking at are well under a hundred quid.
For the time being, a 1TB USB3.0 storage is still the realm of the good old mechanical hard drive and while there are some drives combining SSDs and USB3.0, it makes more sense from a performance point of view to combine the SSD option with a Thunderbolt interface – there are a few of these drives around but they are a very expensive options.
Here we've tested a handful of the many standard 1TB 2.5in HDD portable drives that are available. While some can be found equipped with 7200RPM hard drives, they are more expensive, so this round-up focuses on 5400RPM models. As there are fewer HDD manufacturers these days, the drives inside these diminutive storehouses are from Seagate, Toshiba and Western Digital.
One thing to remember is that most of these drives were formatted as FAT32 drives out of the box, which is fine for small to medium sized files. Any larger that 4GB and they will need either re-formatting or converting (by using the Convert command) to NTFS. If there's any backup software on there, be sure to make a copy first. The drives can of course be used for Mac OS X by reformatting to HFS+ and Linux bods can do likewise and reformat to ext3, if preferred.
Adata DashDrive HD710

Just one look at Adata's DashDrive HD710 will give you the reassurance that the drive will survive most of what you can throw at it during a normal working day. The whole drive is encased in a silicone material that is not only shockproof but also waterproof. The casing also includes a wrap-round slot for the USB cable, so there's no real excuse for losing it.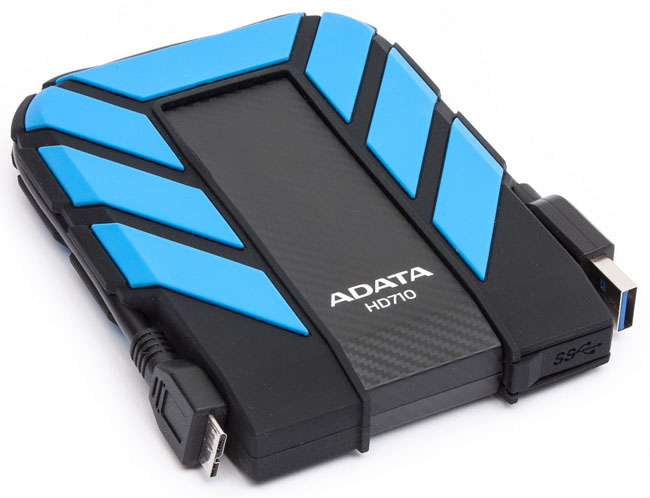 One thing to watch out for though is the drive end of the USB cable, as it's not as tight a fit as some and care needs to be taken if you move the drive while it's hooked up, as you might find it disconnects.
The drive doesn't have any software preloaded but there is a link address on the box to Adata's download page where you can download some useful utilities: OStoGO, install Windows 7 or 8 via a USB storage device, HDDtoGo, a package of useful tools including folder synchronization and encryption. There's lots of protection for the drive inside it but just a shame you have to download the software.
Featuring a Toshiba MQ01ABD100 HDD, this is a reasonably priced drive with a very good all-round performance in a casing that's as tough as old boots.
Price
£60
More info
Adata
Freecom XXS

Freecom's XXS range carries with it the lofty title of the "world's smallest 2.5in drive". Certainly the 1TB drive is a handily sized drive that you could put in a pocket and forget about. The reason for its compactness is the skin tight rubber case that surrounds it, which gives the drive a least some sort of protection that doesn't add too much to its bulk.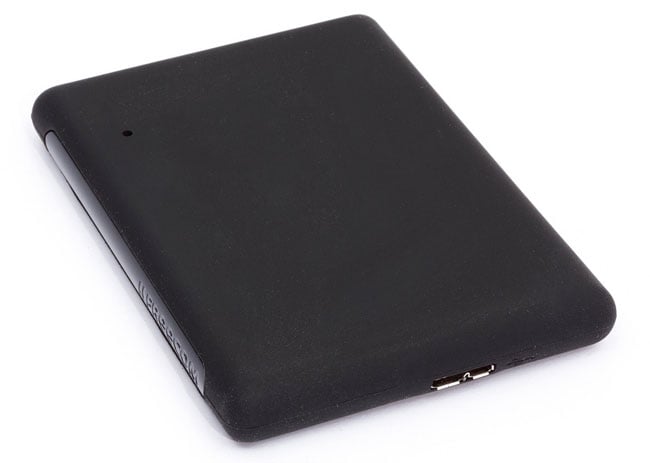 When it first appeared, Freecom supplied it with a very short USB cable but the one supplied with my review sample was a much longer one, so it appears that Freecom has ditched the shorter one. There's a small bundle of utilities preinstalled on the drive for both PC and Mac including Nero BackitUp, Green Button, hard drive easer and FHDFormatter for PC users. On the Mac you get just FHDFormatter, Green Button and a hard drive eraser.
Equipped with a Seagate ST1000LM024 HN-M101ABB HDD, it is a decent performer abeit not the fastest when it comes to writing small files. It fits easily into the pocket and it's not that hard on it either.