This article is more than 1 year old
An e-reader you HAVEN'T heard of: Cybook Ocean 8"
Authentic ebook experience – down to the rubbish browser
Review The e-reader market has not yet been conquered by the likes of Amazon and Kobo. There are still a number of less well known players out there making affordable or niche devices for the discerning shopper. French company Bookeen is focused on European territories with its book store, but that doesn't mean the English-speaking world has been overlooked.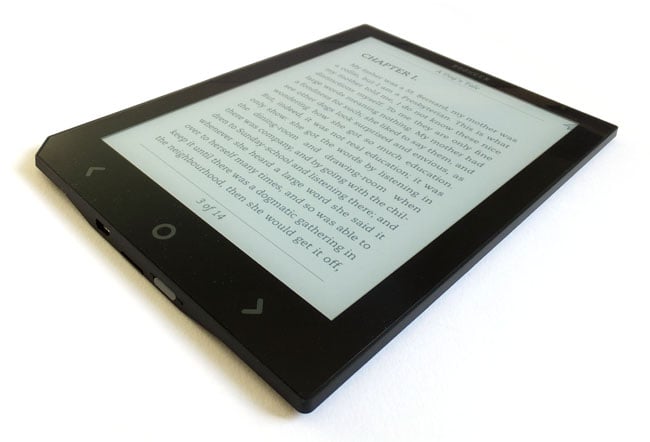 Straight eight: Bookeen's Cybook Ocean
Announced in late 2013 and finally seen in the wild at the end of 2014, the Cybook Ocean has been a long time coming but according to its proud makers, it is "the world's thinnest e-reader with an 8 inch edge-to-edge screen".
Of course, the lack of a surrounding bezel makes perfect sense on a device where the repeated default action is a page-turning low altitude swipe – something I think it should and will become de rigueur for devices of this nature.
The Cybook Ocean has an e-paper capacitive touchscreen display with a resolution of 1024x758. It's interesting to note that nowhere does Cybook use the term (and trade name) E Ink to describe this screen. Indeed, various sources suggest it's made by Ganzhou OED Technologies. At least it looks the part – more on this later.
Beneath the display part of the screen are home, back and forward capacitive buttons which will be welcomed by those who may have suffered repetitive stress injuries from trying to operate previous incarnations of the Cybook line – over time the physical buttons would eventually require a severe crushing, rather than the Ocean's gentle caress.

Bigger and thinner than it looks
The Ocean is indeed a sleek beast, a mere 7 millimetres thick. The anti reflective display is backed by a black metal plate that looks and feels great, but can – together with its larger size – make it a rather slippery fish to grip. It comes with 4GB of internal storage with a micro SD card slot hidden beneath a rear panel which will take another 32GB card. This capacity should satisfy all but the most misanthropic castaway.