Mind your language
The device is powered by a Texas Instruments 800MHz OMAP 3611 processor [PDF] and just 128MB of RAM, which seems rather meagre. This chip has been around since 2011, which probably explains why there is a such a noticeable delay when using the on-screen keyboard. Still, using a low power processor enables a battery life which is purported to be a whole month, a claim I have found no reason to doubt.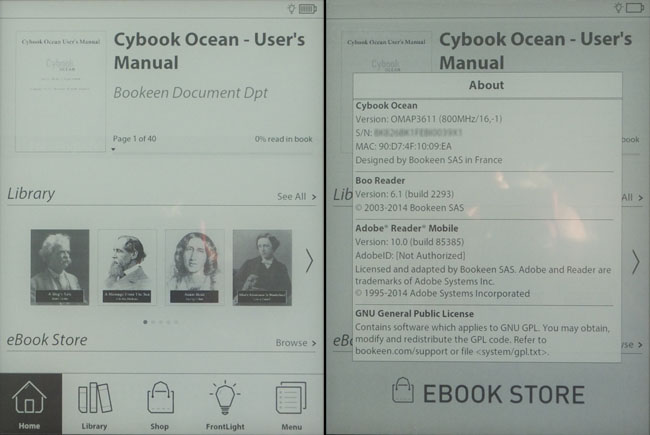 Home screens and device info
The 1024 x 758-pixel screen is multitouch and anti-glare and according to the blurb offers 79 per cent larger reading area. I can say that the larger size together with the new pdf "reflow" mode, make this the best option I have found for anyone who needs to read large PDF files. This is a task you would imagine to be a simple exercise, yet surprisingly few e-readers do it particularly well.
The abundant screen real estate doesn't translate as well as you might imagine; it is adequate rather than stunning. Without the frontlighting active, the screen seems no better quality than the display of the Cybook Odyssey of a few years ago.
There's a lack of contrast that makes for a somewhat murky and lacklustre reading experience. Altering the page refresh interval didn't seem to make any difference, however there are several font and formatting options which may improve matters slightly. The fact remains that, compared to 6- or 7-inch e-reader screens, having the same resolution on this larger area compromises the crispness of the text.
The touch controls are as responsive as that of any other reader I have used. The firm claims the screen "imitate[s] the feeling of a paper sheet". This would appear to be marketing hyperbole: it imitates plastic even better.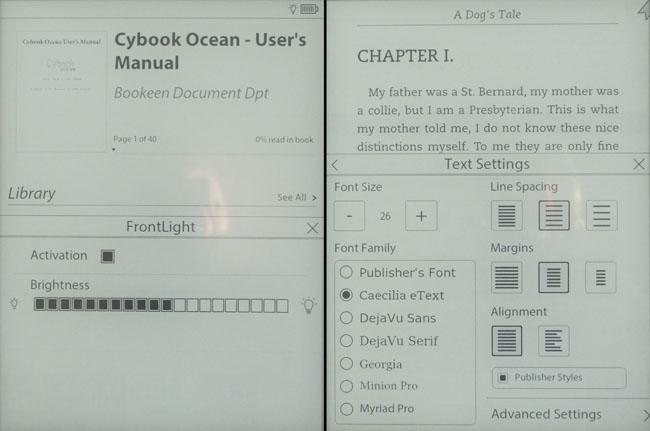 Front lighting variation and text options
The Ocean reads ePub, PDF, HTML, Txt, FB2 and DJVU but not .mobi. It is Adobe Digital Editions (ADE) 4.0 compliant. The hardware overall seems solid, the Francophone selection is, as you'd expect from a French company, excellent.
The main issue with the Bookeen shop is that the English language selection is severely lacking and that is the problem with all Cybook products – the English language support just ain't there. This is an issue on login details, which repeatedly default to the French language, and the online shop, which can only be described as rudimentary. Amazingly, there are virtually no translations from the French here, an activity you'd imagine this company would be ideally placed to exploit.