Tesla S P85+: Smiling all the way to the next charging point
Still buzzing after driving this 'astonishing' leccy car
Vulture at the Wheel The Tesla S is astonishing. I'd driven one around the London Docklands at a launch, but a week with one has me converted to merits of auto electricity.
I have to admit I was sceptical. Electric car owners as a tribe can be quite hard work. They are always convinced that their cars are wonderful, even the ones with G-Wizzes.
So I thought there was a strong element of this going on when Tesla owners, and there seem to be a lot of them among the El Reg readership, told me that the Tesla would quite simply re-set the way you thought about cars.
That might be hyperbole but there is truth behind it. I picked up my loan car from the Tesla showroom at the Westfield shopping centre.
Not far from the Tesla charging station is the valet parking area, and sitting there was a beautiful Ferrari 512BBi. A truly great supercar, 4.9l flat 12 engine, essentially a car built for speed before the days of emission and pedestrian safety.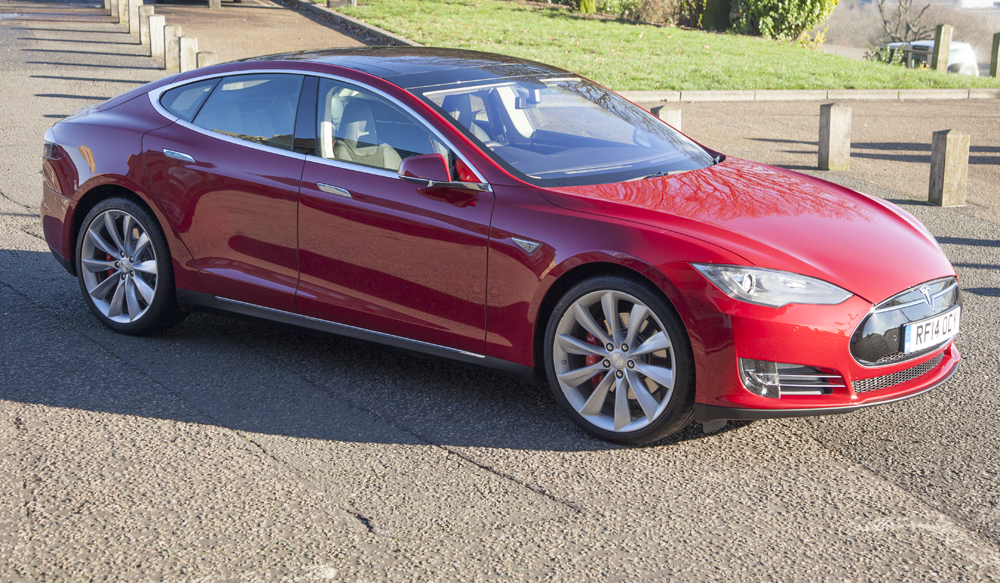 A big saloon, capable of carrying five adults and two children, and faster than (some) Ferraris
And yet, the Tesla which is a big saloon, capable of carrying five adults and two children is faster, significantly faster. That Ferrari when it was new could do 0-60 in 5.2 seconds. The Tesla P85+ does it in 4.2.
To my eyes it looks pretty reserved, but others clearly don't see it as such; someone in the street was taking pictures of it on her iPhone outside my house.
I drove it into town to take some of my colleagues for a ride: the first review car I've done this with. We are not small people. Yet, even with half a tonne of Vultures in the vehicle I was able to surprise my colleagues, and it was too fast to fully demonstrate what it was capable of.
But this was as nothing to their joint surprise that the car could (silently, yes in silence) accelerate like a Lazlar LyriKon custom job. The lack of noise is spooky. There isn't even a motor whine.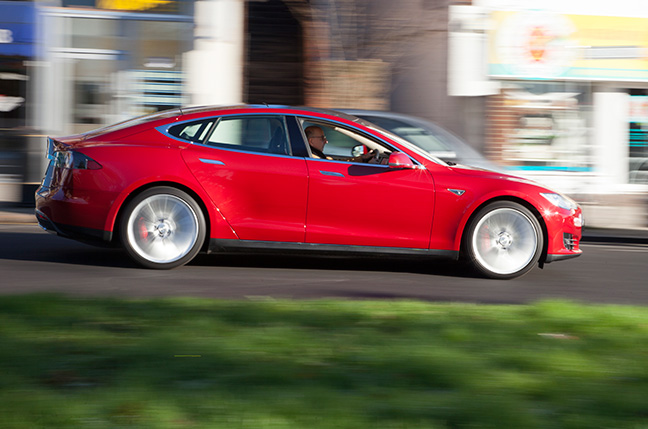 Low position batteries means good handling, even on roundabouts
I've heard of people who buy Teslas not because they are green or clever but merely because the customer is so crazy about music they don't want the difficult piccolo piece distorted by the inevitable thrum of an internal combustion engine.
However, all four Vultures were soon totally overwhelmed with surprise when they saw the 17-inch display panel showing the stories they had been working on, and surprise was pushed to its very limit when I flipped through a few of the screens, especially the great rear view which is supposed to just be used as a reversing camera but actually functions very much better than the rear view mirror.
As I tackled a few bends - the road-holding was so much better than you'd expect from a heavily laden car with more than a tonne of batteries - surprise was no longer adequate and we were forced to resort to astonishment.
That good handling comes from having the batteries right down low. The showroom has a chassis with the batteries in place to reveal where all the weight is. Centre of mass is critical in making a car go round a corner well, so despite weighing two tonnes this thing was almost nimble. It certainly doesn't feel American. The vibe is somewhere between BMW and Jaguar.