Tesla S P85+: Smiling all the way to the next charging point
Still buzzing after driving this 'astonishing' leccy car
---
Like it has a mind of its own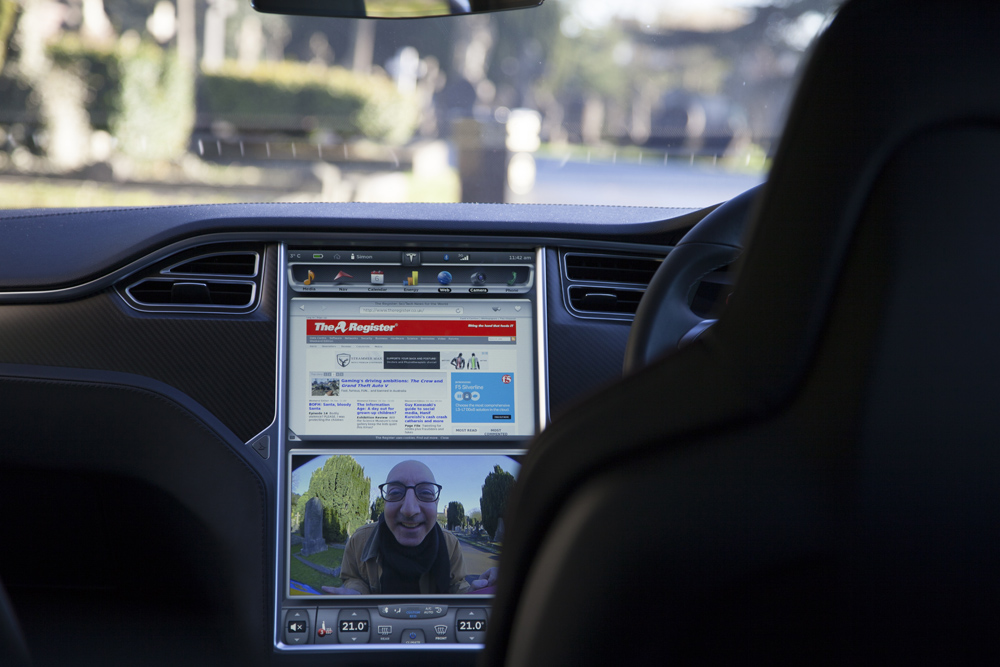 You can kind of justify using Google Maps to get to where you are going, but do you need Twitter?
Something which takes a bit of getting used to is what you do when you arrive. If you are used to turning off the engine, turning off the lights, taking out the key, getting out of the car, and locking it (as most of us are) you need to accept that with the Tesla S the only bit of that procedure you have to do is the 'getting out of the car'.
All the switching off and locking it does for itself as you walk away with the fob in your pocket. As you leave the wing mirrors fold in. As you approach, on your return the door handles power out automatically.
But what really draws the attention is that screen. I concur with my friends who say it's a distraction. Video is blocked - my kids tried YouTube - but it's still got that moth-to-a-flame appeal while you're driving.
You can kind of justify using Google Maps to get to where you are going, but do you need Twitter while you are driving? Searching for stuff can be interesting as sometimes Google drops into Spanish. ¿Que? This will be because Telefonica supplies the SIMs through internet-of-things company Jasper, and so Google assumes you're a Spanish subscriber.
What can be just as distracting is the vast number of configuration options the electronics offer.
The model I tried for a week was the P85+, although this is about to be replaced by the P85D, the even more astonishing four-wheel drive, dual motor version. Telsa is taking orders now for June delivery. There are a few P85+ available but it will be the remarkable P85D which anyone spending £100,000 ought to go for.
It takes on the Porsche Panamera, but that's ugly and feels its size, and the Tesla S beats it on all counts - except perhaps badge snobbery.
The annals of car history are littered with many more failures than successes. For every Koenigsegg or Pagani there are a dozen Spykers or Marussias.
Building a successful car company is impressive, and to do so with a an electric car even more so. But the car really is very good, and although it doesn't prove that electricity is the way to go for all cars, it does show that done right it can be made to work. ®

Tesla S P85+: Smiling all the way to the next charging point
If the words "electric car" make you think "milk float" you need to try one of these.
Price:
£98,000 as tested RRP