This article is more than 1 year old
HTC Desire Eye: The Android superior selfie shooter
Narcissism goes hi-res
Review Why has HTC's flagship M8 One not been more popular? It's visually arresting, critically highly regarded, has a great display, and is very well made. It should sell more strongly than it does.
Of course there are some negatives. The 4MP large-pixel camera is a bit of a strange fish, some regard the ostentatious speakers as ugly, and the price is a tad steep.
Perhaps potential HTC One customers find it just a bit too left-field? If that is the case, the new Desire Eye could be just what the sawbones ordered.
From the off it is worth making clear than the Eye is not a flagship. It's rather more affordable than the Sony Xperia Z3, Samsung Galaxy S5 or HTC One M8.
Three, which seems to have an exclusive at the time of writing, is punting it for £399 on PAYG, or from £27 a month on contract. That's rather less than you would pay for any genuine Android range-topper bar Motorola's Moto X.
You still get a reasonably high-end spec for your money though. The screen is a very nice 5.2-inch 1080 x 1920 IPS affair which gives little away to the One M8's stunning, if smaller, Super LCD panel.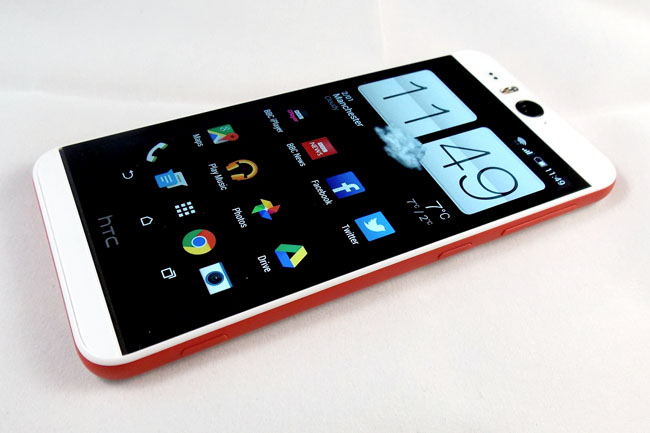 HTC's Desire Eye: a conventional but well-made handset
With a pixel density of 424dpi, it's as sharp as a tack and surprisingly bright when cranked up to the maximum. Viewing the display out and about in daylight and it's hard not to be impressed.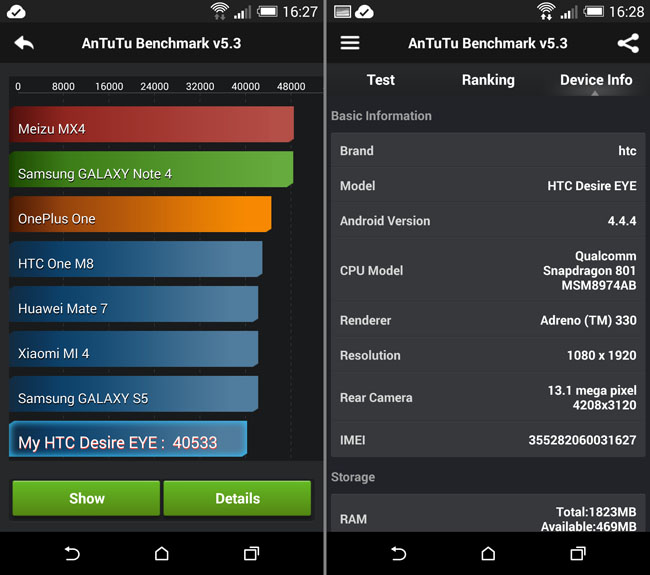 AnTuTu benchmark: not a 2015 flagship but fairly close
Running the show is a Qualcomm Snapdragon 801 chipset housing a 2.3GHz quad-core Krait chip, Adreno 330 GPU and 2GB of RAM. That's a set up that can return an AnTuTu benchmark score of over 40,000. More than good enough in my book even if newer Snapdragon 805 chipsets have it beat on paper.
All the other high-end goodies are present and correct. There's an NFC chip, Bluetooth 4.0 with aptX, an FM radio, 802.11n Wi-Fi and three microphones for the best in active noise suppression. You only get 16GB of storage which works out at 11GB-ish after system grab - evidently, the Apple iPhone isn't alone here. You can slot in a microSD card of up to 128GB if space gets tight, something Apple has yet to deliver.
The battery is fixed in place but at 2,400mAh reasonably capacious and can serve up between 36 and 48 hours of medium weight usage between charges. Loop a 1080p MP4 video file with the brightness at 70 per cent and you'll drain the battery in a sniff over 10 hours. That I can live with.

Buttons well placed though the shutter key could be more pronounced
The Eye isn't a bad looking lump either. It is certainly a far more conservative design than the M8 One. On a practical level the grippy and rounded sides make it easy to hold and the matt finish plastic body feels both sturdy and durable. The power and volume buttons have been thoughtfully positioned. The same goes for the 3.5mm audio jack and micro USB port.