This article is more than 1 year old
UNDER A VEST: Man cuffed for smuggling 94 iPhones strapped to his body
Cops nab mobe-suit fella while entering China
Pic Chinese authorities have captured a man trying to smuggle 94 iPhones strapped to his body into the Middle Kingdom.
Photos shared by the state's People's Daily newspaper show the man stripped of his outerwear to expose an elaborate layer of Apple handsets fastened with plastic wrap and duct tape to his torso, abdomen, groin and legs.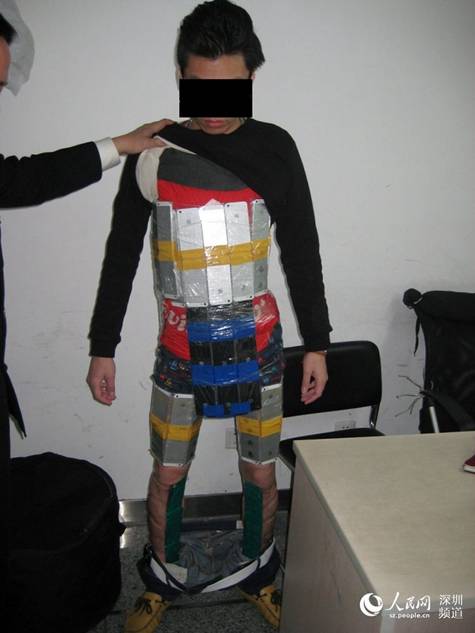 95 problems, getting an itch is one ... the iPhone smuggler
According to CNN International, the man was nabbed by Chinese customs officials while trying to enter the mainland from Hong Kong. Despite traveling light, he was said to be walking like, well, someone who had 94 smartphones strapped to his person.
A quick run through the metal detector set off alarms and, if the man wasn't already sweating from his all-phone outfit, he was after police uncovered the ruse and took him into custody.
Granted, the sight of a man wearing nearly 100 iPhones under his clothes is pretty chuckle inducing, but in this case his ridiculous getup would have netted a hefty payday had it been successful.
Because the Apple handset costs less in Hong Kong than in mainland China, smuggling iPhones into the country for sale on the black market has become big business. In this case, the load was estimated to be worth about $49,000.
If only the bloke had waited a few months: he could have added to his haul by strapping a few dozen Apple Watches down his arms. That launch is reportedly planned for March. ®