DDN EVP and CTO Jean-Luc Chatelain has left and joined Accenture as managing director for analytics.
At DataDirect Networks Chatelain was responsible for Strategy and Technology, having joined in February 2011.
He is a proponent of modern Big Data analytics, thinking that the old Extract-Transform-Load (ETL)-style of Business Intelligence/Data Warehouse meant the raw data was subject to an Extract, Torture and Lose process which forces data items to fit into rigid pre-designed schemes or else be lost or ignored.
He says today's data lakes are cheaper than data warehouses because they "are generally implemented using the Apache Hadoop file system running on commodity hardware." But they also provide the analytic basis for "high-quality actionable insights," because the analysts (data scientists) get access to the raw data because HDFS is a schema-less data store.
Chatelain announced his move in a pair of tweets: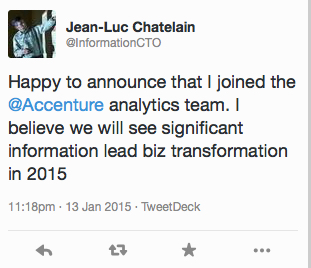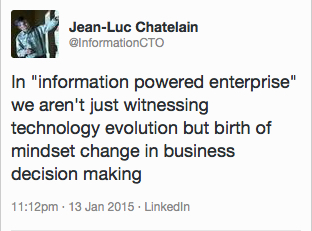 Clearly Accenture wants to grow its analytics business by encouraging enterprises to trawl through their data lakes looking for the - jargon alert - high-quality insights they can action. Chatelain thinks the time is ripe for a mindset change in the way business decisions are made.
With his hire, let's hope Accenture gets high performance – delivered. ®