This article is more than 1 year old
Stop viewing Facebook at work says Facebook at work on Facebook at Work
Zuck wants in to YOUR company firewall
Facebook will soon tell its users (sorry, people) to dump its colleagues on the site and interact with them instead on the company's social-networking-for-suits site, Facebook at Work.
In the meantime, Facebook is at work on Facebook at Work.
Facebook will not be renamed Facebook at Home, but the Mark Zuckerberg-run firm has recently made it clear that it wants to separate out the types of users (sorry, people) who log into its free-content ad network.
For example, it has recently been spotted poking around the health market.
Facebook has also reportedly been attempting to flush out anonymous users on the site – with mixed results.
The Register understands that Facebook at Work is being fiddled with by a select, unknown number of biz partners.
It's visible only to those outfits via Apple's iOS and Google's Android App stores.
Many companies block Facebook at work, which perhaps goes some way to explaining the logic behind Facebook at Work. It will only be used within the walls of a given biz and function completely separately from personal Facebook accounts.
But some users (sorry, people) on Facebook do buddy up with their workmates on the site, so presumably Facebook will eventually encourage its users (sorry, people) to ditch them and add them instead as colleagues via the Facebook at Work app and desktop version.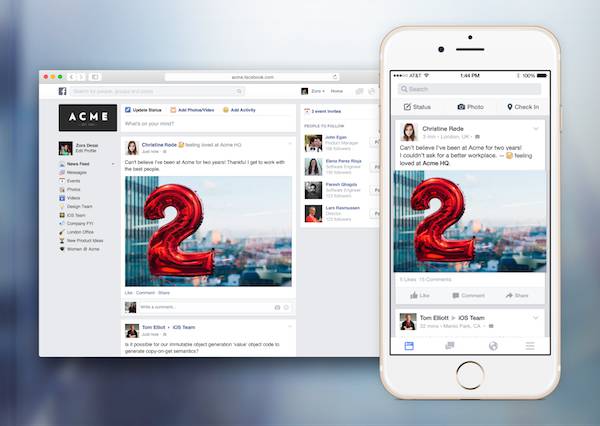 Just what the world needs now – yes, a free-content ad intranet. Image credit: Facebook
Facebook will replicate the look and feel of Facebook on Facebook at Work for Facebookers at work, apparently, once Zuck slips inside companies' firewalls.
There's no word yet on what sort of fees businesses can expect to shell out for Facebook at Work. Initially at least, this scribe expects that the service will be free and slathered in ad goo. ®