Grow, grow, Grohe, you gloat. Well done that sales team. Merrily, merrily, merrily, merrily, profit is just a dream
Welcome to Barracuda's world
---
Blink and you'll miss it: Barracuda made a microscopic loss of $36,000 in its latest quarter. That's just 0.1 per cent of its $70.4m revenues. This is a company growing sales by 17 to 20 per cent in each quarter compared to the year before – nothing dramatic but more than respectable.
Barracuda Networks sells data protection and file sync/share equipment for storage systems, plus security devices and other products.
Its revenues for its third quarter of fiscal 2015, ended November 30, were up 19 per cent on the year-ago quarter, and 2.5 per cent higher than the $68.7 million booked in the second quarter of the fiscal year, the latter figure up 18 per cent on the year-ago period.
In Q3 fiscal 2015, Barracuda's appliance revenues were $20.7 million, up from the year-ago quarter's $18.1m, with subscription revenues being $49.7m, up again from $41.2m the year before.
The $36,000 net loss for the three-month period compared well to the $2.1m the biz lost in the year-ago quarter, but not so well to the fiscal year's second quarter's $700,000 net income.
President and CEO BJ Jenkins talked of "another quarter of strong financial performance" and said: "Our results reflect the continued demand for our storage and network and application security products which continue to drive our top line growth. We also continued to make progress in the public cloud market with more integrations of our products into Microsoft Azure and Amazon Web Services. Given the expanding opportunities for our products, we will continue to invest to grow our sales and R&D efforts while driving toward our long-term model."
Growing subscribers is important. Some 11,250 were added in the second quarter and nearly 10,000 added in the third quarter, taking the total past 234,900.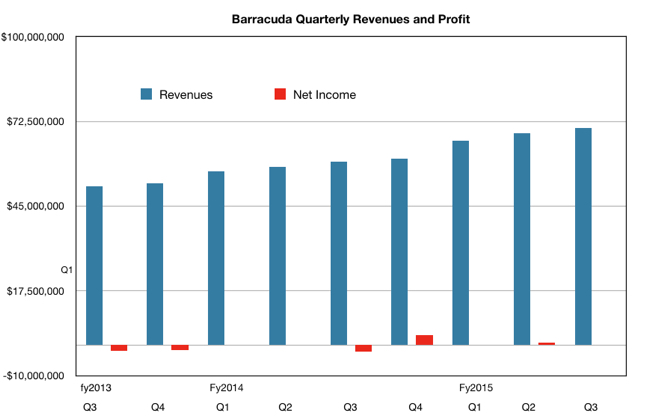 William Blair analyst Jason Ader said it was another clean quarter that topped Wall Street estimates. On the results conference call, we were told the "management continues to see positive progress in cross-selling multiple products to its base of existing customers."
Fourth quarter revenues are expected to come in at $71m to $72m, topping up the full fiscal 2015 revenues to $276.8m at the mid-point, up 18.4 per cent on fy 2014.
Ken Grohe joined Barracuda in December last year as its senior veep and general manager. He comes in from HGST where he was vice-president for global enterprise customer operations, and came to HGST in the acquisition of all-flash array maker Virident – he was veep of customer ops at Virident.
Why did Grohe join Barracuda from the glamorous high-end corporate HGST environment? According the man himself:
I researched how well bedrock IT companies that have IPO'd with a killer brand and disruptive, purpose-built solutions, that are participating in a clearly defined repeatable customer segment – 50 to 5000 employees that want to simplify IT – grow after their IPO, and Barracuda definitely fits that description.
Almost 100 per cent renewal rate shows customers love rock-solid products and they get an immediate ROI.
No legacy business that we need to protect from the cloud disruption, as all our solutions are designed for the cloud.
Barracuda is a young company, 11 years old, and moving up and growing. That's always fun.
Getting promoted to an SVP slot was also a factor, he said, and he's stoked about the possibilities at 'Cuda. (Cue a joke about Grohe growing the company; groan.)
At the existing growth rate Barracuda could pass $100 million/quarter some time in fiscal 2017 and be a $500 million/year company in fiscal 2018. By then it ought to be making solid profits.
Is steady, consistent growth its aim, or will it use its potential financial firepower to do something more dramatic, to bite something big? ®