GoPro feels COLD BREATH of APPLE on back of neck
Ooh, I feel as if Tim Cook just walked over my grave
---
Among the fistful of patents Apple was awarded on Tuesday was a pair of eye-catching filings, one of which has already hit a potential competitor in the pocket.
The first of the two, US Patent No 8,933,876, describes a 3D gesture input system that uses a camera to track user movements and respond to three-dimensional gestures made with both hands – rather like Microsoft Kinect.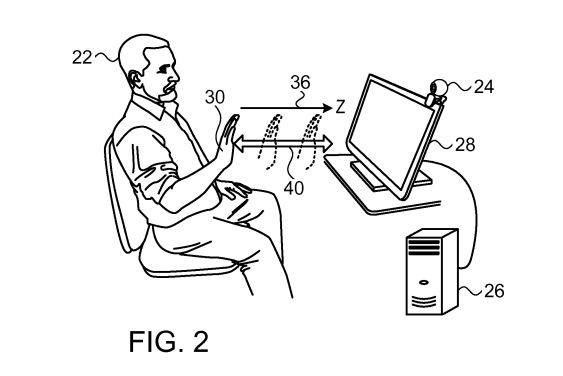 As Apple says in the filing, the user would execute these gestures by making "a first motion in a first direction along a selected axis in space, followed by a second motion in a second direction, opposite to the first direction, along the selected axis." The filing notes gesture distances of 20cm and speeds of up to 4cm per second.
Among the possible uses for the tech include interacting with 3D user interfaces or using gestures to unlock devices. The patent does not indicate how Apple plans to implement the technology into future products, however.
Meanwhile, a second Apple patent granted on Tuesday, US Patent No 8,934,045, is having a more immediate effect on the market – making shareholders of actioncam vendor GoPro nervous, causing its stock to dip.
That patent, a reassignment to Apple from Kodak, describes a remotely controlled camera system that can be managed by another device and talk to video or photo-sharing websites over the internet. Kodak's image-hosting sites and YouTube are both named as possible destinations for captured image files.
The filing also includes references to ruggedized and waterproof camera equipment for use in outdoor or underwater environments, which appears to be what raised eyebrows of GoPro-watchers.
While Apple has yet to announce any such product (and buying a patent is hardly confirmation it plans to do so any time soon), the prospect caused stock in GoPro to dive 12 per cent when word of the filing surfaced. ®