This article is more than 1 year old
Citrix goes into the mouse business
VDI outfit makes a point about fat fingers and Apple's Bluetooth-on-fondleslabs ban
Citrix is getting into the mouse business.
The company threw a Summit this week where it shoved new versions of XenServer and XenMobile out the door. It also revealed the "X1", a mouse that works with its Citrix Receiver app.
Receiver is the client needed to access applications and/or desktops groomed by XenApp or XenDesktop.
Citrix's schtick is that running Windows or Windows apps on an iPad is a great way to mobilise your organisation, thereby bringing about disruptive agility and so on.
But there's one small problem: Apple doesn't let Bluetooth mice work on iPads. It's possible to get wireless rodents scuttling about on iScreens, if you jailbreak the device. And that's not going to go down well with those who would also install Citrix Receiver on an iPad.
That can make for some awkward moments when using an app designed for use on a PC and mouse. Fingers are great for flinging birds, but less useful when one is trying to tap on cell 33 G of a spreadsheet.
Enter the X1, a device Citrix says means "... you can experience the advantage and productivity of the Citrix Mobile Workspace from your iPhone or iPad with the ease of a mouse."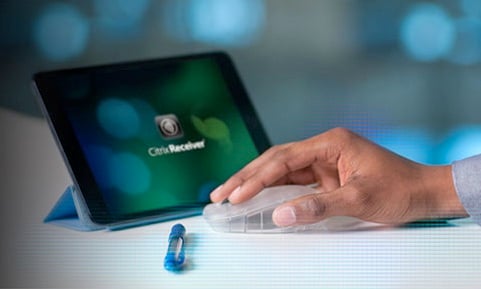 The Citrix M1 mouse
It's a limited-edition device for now, and Citrix is asking folks to explain why they want one in order to win one. A properly productised version of the rodent is in the works.
That Citrix has even contemplated the need for its own mouse surely bespeaks problems convincing punters the iPad works as a vessel for packaged apps. Apple probably doesn't care, not least because it has teamed with IBM on native enterprise apps for the fondleslab. But if the X1 takes off, don't bet against Cupertino finding a way to crimp whatever Citrix has done to get a mouse talking to an iPad. ®